Konoplyanka's Agent Confirms Liverpool, Manchester United Interest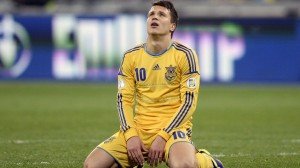 It feels like January all over again; despite the transfer window not even being open for business, media speculation linking Dnipro Dnipropetrovsk winger Yevhen Konoplyanka to a host of English and European sides is going into override as representatives of both the club and the player confirming that the he's open to a move away from the Ukrainian outfit.
Yesterday, it was Dnipro sporting director Andriy Stetsenko ratcheting things up by confirming that they're willing to sell if a club meets the player's £12mil buy-out clause, and today it's his agent confirming that every club under the sun is interested in snapping up the promising 22-year and that the player is pretty much interested in whoever is interested in him. Nothing like being choosy, right?
"Almost everyday, I receive more than 5 calls from my colleagues asking about Konoplyanka" said the players agent. "Information that Liverpool are not interested in him is untrue. If English clubs make an offer, he's likely to accept." With the Reds able to offer the winger Champions League football, Merseyside would seem like a likely destination for him until he shed some light on the Manchester United link — who popped up as a potential suitor yesterday — and made sure everyone knew the deposed Premier League champions were in the mix as well.
"Recently there's been increased interest in Konoplyanka from Man United. Their representatives have watched several games" he continued. "In the case of Manchester United, Konoplyanka understands that he will lose the opportunity to play Champions League. Recently, there have been active calls from Schalke. If famous foreign clubs stop their interest, he'd stay here." So, if none of the English clubs come in for him and the German outfit decides that he's a bit too rich for their blood, then he's going to stick around at Dnipro?
Are you sure no one else is interested? Might want to add another name or two to the list just to be sure.
Thanks to @Zizouology for the translated quotes.