Moreno Staying Focused on the World Cup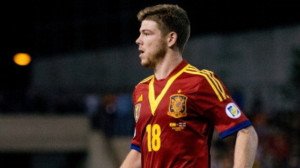 Despite intense speculation surrounding the future of Sevilla fullback Alberto Moreno, the talented youngster is keeping his eyes on making Vicente del Bosque's squad for the World Cup this summer rather than trying to wrangle a big money move.
With Liverpool heavily linked with a £16mil move for the Europa League winner, one would think that he'd have visions of money bags and glorious Champions League evenings in his head, but the 21-year old is leaving those matters to his agent and has decided — at least, in the press — to focus on this summer's show-piece event. Moreno has been included in the provisional 30-man squad and is currently training with the national team, but with del Bosque set to announce the final 23-man line-up on June 2nd, there's no room in his head for transfer speculation.
"I am not thinking about anything more than the Spanish national team" he told the press ahead of Monday's much anticipated announcement. "At the moment I do not have my mind on anything other thing that is not the national team." The defending European Cup and World Cup winners have a hard road ahead of them, though they remain one of the favourites to lift the coveted trophy in Brazil this summer.
How much Moreno would actually participate should he make the cut is a question in itself, but not one that any player vying for a spot on the world's biggest stage is prepared to worry about; you're not going to play if you're not on the plane. "About my future, my agent and my father are responsible. I have the possibility of going to a World Cup and that does not happen every day" he re-iterated. "I am only thinking about that."