Liverpool in Control over Assaidi Transfer Confirms Stoke City Boss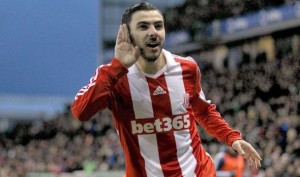 Although Stoke City remain keen on signing up Liverpool winger Oussama Assaidi on a permanent basis, the Reds seem to be having some problems shifting him out with the Potters unable — or very much unwilling — to meet their valuation.
The Moroccan international impressed during a year-long loan spell at the Britannia Stadium last season with a number of key goals endearing him to both the supporters and the manager. Fan favorite or not, the £7mil price tag that Liverpool have slapped on him is looking a bit cost prohibitive for Mark Hughes side with the Stoke boss batting questions of a move for the 25-year old aside with the kind of cryptic responses one would expect from someone with no real updates and nothing new to say.
"We are where we are on that one," he told The Sentinel when asked if they were working on a move to bring Assaidi back. "Ideally, if we can do something then, yes, we will." Which, of course, means that if they can't do something, then they won't.
Despite the Moroccan's fitness coming in to question, the Potters remain keen on securing his services, but only if the Reds are willing to negotiate on the price. Still, Hughes remains hopeful of bringing the speedy 25-year old back to the Britannia for the next season. "He's someone we know and someone we know can have an impact so, yes, we would like to see if something can be done with Ossie but obviously he isn't our player and that means the ball is in Liverpool's court."