AC Milan Reportedly Slash Balotelli Asking Price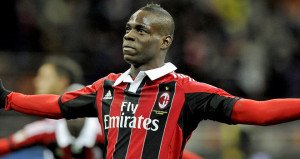 Yesterday, Liverpool were being linked with a sensational move for Borussia Dortmund striker Marco Reus, but today we're back to basics — so to speak anyway — with the Reds rekindling their interest in AC Milan bad-boy Mario Balotelli after it emerged that the Serie A could let him go on the cheap.
The Anfield outfit were rumoured to be monitoring the 23-year olds situation closely with whispers that he could leave the San Siro this summer getting louder by the day. While his £30mil price tag may have deterred Reds boss Brendan Rodgers from seriously entertaining a move for the volatile attacker earlier in the summer, the combination of a windfall of cash from the sale of Luis Suarez to Barcelona and a serious reduction in his asking price could very well see Balotelli return to England.
With his star waning in his native land, Italian newspaper Tuttosport are reporting that the Rossoneri are ready to entertain offers for the former Manchester City man and are willing to take a loss on the player by accepting bids in the region of £14mill to get him off the books and avoid losing any further money on the unpredictable striker.
By this point in time, everyone has seen Balotelli at both his best and his worst. Sulky one minute and sublime the next, the 23-year old has been a constant source of entertainment since breaking into the Inter Milan team under then boss Jose Mourinho. With 14-goals in 30 appearances in stingy Serie A last season, there's little doubt that he can do the job, but both his attitude and aptitude remains suspect. That being said, Liverpool are no strangers to controversy, and at a cut rate, could very well stand to benefit from Milan's loss.