CONFIRMED: Liverpool Complete Capture of Divock Origi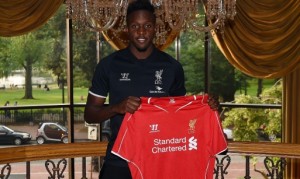 You can never be 100% sure of Liverpool signing up a player until you see them holding the famous red shirt aloft — today, as you can see, is one of those days.
Following a successful medical, Lille striker Divock Origi put pen to paper on a long term deal with the Anfield outfit and officially completed his move to Merseyside. Well, kind of anyways; as previously reported, the 19-year old has been immediately loaned back to Lille where he will spend the remainder of next season. The Reds are keen to fast-track the youngsters development and there's few better ways of doing that than having him play regular first team football with a club of Lille's pedigree. Really, it only makes sense.
Chances for the youngster would be few and far between in Liverpool's first team despite them returning to Champions League action for the first time since 2009. Although the Reds pulled out of a deal to sign QPR striker Loic Remy earlier on in the week following a failed medical, it's believed they'll go back to the drawing board to secure a partner for Daniel Sturridge before the end of the transfer window, leaving Origi free to play in France.
"I've seen enough of him over the course of the last couple of seasons to think this is a kid who, coming into the right environment, can genuinely be world class" said Brendan Rodges upon confirmation of the transfer. "He will go back to Lille and play there for the season on loan, but by signing him, we'll have a wonderful player – not only now when he comes in next season, but also in the future."
Welcome to the club Divock — well, sorta.