Marco Reus's Agent Gets Chatty With a Rejected Contract Reigniting the Rumours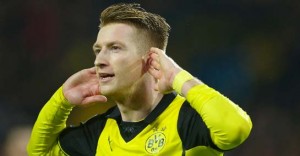 Borussia Dortmund sporting director Michael Zorc may have ruled out attacker Marco Reus leaving the German giants this summer, but it's starting to look like the player is going to weigh in on that with reports coming in that he's rejected an improved contract offer.
With his buy-out clause of £27mil set to come into effect next summer, Dortmund are keen to tie the 25 year old down to renegotiated terms, but German media outlet Bild are saying that Reus isn't interested; at least, he's not interested in what they have on the table at the moment. That on it's own doesn't mean that he's heading for the door, but his agent has also been on point in the media — either because he's genuinely angling for a move or he's looking for some leverage in negotiations.
"Marco would make any big European team stronger," his agent Dirk Hebel told the German media following the news that he'd turned away the contract offer. "That's why it's completely normal that a number of these major European teams are interested in signing him."
While that's hardly conclusive evidence of Reus's desire to leave the German side, it does make you wonder what would happen if a bid was lodged for his services. Despite rejecting talk of an interest in the psuedo-striker, Liverpool have a rather large gap to fill up front following the departure of Luis Suarez to Barcelona earlier in the month. After scoring 21-goals last year for Borussia Dortmund, who the Reds will face in a friendly one week before their Premier League campaign kicks off, the 25-year old looks like a tailor made substitute for the Uruguayan.