Pippo Inzaghi Sees Positives in Mario Balotelli Exit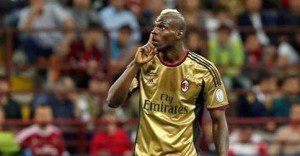 Despite the fact that he hasn't even officially been signed by Liverpool yet, everyone and their best mate has an opinion on Mario Balotelli's impending move to the Merseyside giants — and AC Milan boss Pippo Inzaghi is no exception to the rule.
With only a few days left in the transfer window, the sale of the powerful 24-year old will surely leave the Rossoneri legend scrambling for a replacement before September, but he's choosing to have a look at the positives rather than dwell on the task at hand. "When a player leaves, it means that the decision was made by the coach and the club as well, not just him," he told the press after the news broke that Balotelli had passed his medical on Merseyside. "Surely we are losing a great player, but we will probably gain a lot more from other points of view, as in team spirit and the stronger desire to well. We should be happy."
While that could very well be a less than subtle dig at a player who in the past has been a disruptive influence, the 41-year old quickly clarified his comment. "Mario has always trained and been well-behaved with me" he explained. "I wish him the best of luck and now we'll move on."
Following the sale of Luis Suarez to Barcelona, Liverpool are moving on as well and Balotelli has been targeted as one the men to help them do just that. The 24-year old is set to become Reds boss Brendan Rodgers ninth signing of an extremely busy summer as they not only look to replace the goals the Uruguayan is sure to take with him, but build a squad capable of navigating a tough domestic and European fixture list.
If Balotelli isn't up to the task on the pitch, he's sure to be entertaining off it.