Simon Mignolet Ready for "Easier" Manchester City Clash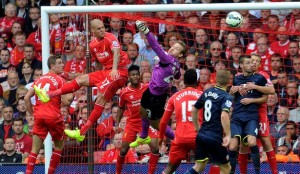 Liverpool may have stalled and stuttered during the 2-1 win over Southampton on the opening day of the Premier League season, but Reds 'keeper Simon Mignolet believes that his team-mates are ready to punch it into a higher gear when they take on Manchester City at the Etihad Stadium later today.
Although it's still early in the season, many pundits are tipping this match to be one of the key meetings in the title race. While the Belgian didn't expand on his own aspirations of lifting some silverware this year, he did say that they were ready to meet the Citizens head on, even going so far as to suggest that preparing to face the defending champions has been easier than getting ready for Southampton.
"We will be ready for City," he told the Liverpool ECHO in the days leading up to the match. "It's actually probably as easier game to go into than Southampton at home. We didn't really know to expect from Southampton as they have a new manager and new players. But we know what the City game is going to be all about. It will be totally different."
Mignolet made a number of crunch saves last Sunday as the Reds kicked off their Premier League campaign with a bang, but despite the confident attitude, he's harbouring no illusions that the Citizens will be push overs. "They have some top players and it will be a difficult game but we competed with them last season and hopefully we will get the three points" he continued before cautioning that they may still be easing into the new season. "No matter what you achieved last season, you have to start again. You can't expect to be at your best from the first minute of the season. You don't feel the same as when you've played 20 games."