Daniel Sturridge Inching Closer to Liverpool Return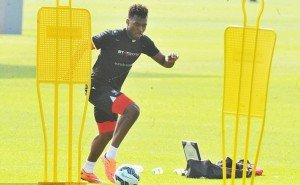 With news leaking out yesterday that Liverpool striker Daniel Sturridge had returned to training ahead of schedule, the striker has taken to social media to confirm that he's inching closer to returning for the Reds.
"Pushing myself to my limit right now for real" the striker said on his official Twitter account. "Closer to fitness each day!!" The 25-year old, who has missed the 1-0 defeat to Aston Villa as well as his sides first Champions League match in five years, injured his thigh while over the international break and was initially ruled out for up to three weeks — something Reds boss Brendan Rodgers wasn't all too pleased about.
"I think clubs work differently at times to international teams. It's more the recovery strategy. When we look at our players here, we look at them individually in terms of what their needs are" said the Northern Irishman before confirming that the England set-up know exactly how Liverpool work in terms of training and recovery. "The players go there and tell the associations how they work. Of course it's always up to the manager of the association. And on that second day they can do tactical work but for us and the methods of how we work, that can only be low to moderate intensity in small spaces, or you get injuries."
Sturridge, who last featured for his club during the 3-0 win over Tottenham Hotspur at the end of August, could make a cameo appearance for the Reds — if all goes well that is — when they face Championship side Middlesbrough in Capital One Cup next week. Realistically, a full return against Everton at the end of the month isn't out of the question. Despite being short on match fitness, we've seen what the man can do from the bench against the Blues; or did you forget?