Espanyol 'keeper Kiko Casilla Plays Down Liverpool Interest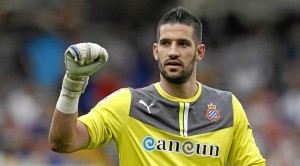 Although Liverpool are reportedly set to meet with ex-Barcelona 'keeper Victor Valdes' agent next week to finalize the Spanish shot-stoppers move to Merseyside, that hasn't stopped the press — or players themselves — of talking about the Reds interest in bringing in some serious competition for Simon Mignolet.
Over the last couple of weeks, Espanyol 'keeper Kiko Casilla has been not only one of the most consistent, but one of the more plausible names being linked with the Anfield outfit. Of course, what the papers say and what the actual reality of the situation is isn't always the same. "I've not had a call from anyone at Madrid or Liverpool. I'm serious" he told respected Spanish media outlet AS in a recent interview. "I don't know where that information has come from but, again, neither have called me or my representatives."
Defending European champions Real Madrid, who the Reds will face home and away in the Champions League over the next few weeks, still own a 50% stake in their former youth team player and could snatch him up on the cheap as a replacement for want-away shot-stopper Iker Casillas — another big name linked with the Anfield outfit.
Even though he's apparently not talking to clubs right now, Casilla, who has a £15.85mil release clause in his contract, isn't ruling out a move away in the future. "Espanyol, like most Spanish clubs, needs money and if someday my departure occurs it's because Espanyol need the money" he continued. "So far it's just speculation, no one has been bidding, offering a few million. When that happens, if it happens, all parties will value it and we will decide."