Liverpool (0) Hull City (0): Reds Left Frustrated as Tigers Claw a Draw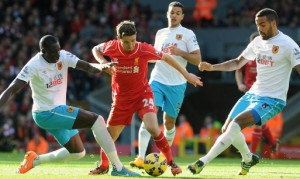 It's a draw that feels vaguely like a loss with Liverpool left frustrated by a combination of Hull City's well drilled back-line and their own lack of a cutting edge in front of goal.
With the Reds coming off a pair of disappointing performances and the Tigers buoyed by last weekend's draw at the Emirates Stadium, the result doesn't exactly come as a surprise. While playing out our first clean sheet in 18-outings leaves a little room for optimism, watching our first goalless draw in 48 Premier League games tempers any left-over sunshine and lollipops significantly; it doesn't take an expert, or me repeating it ceaselessly, to see that something is amiss at Anfield.
Maybe, and I could very well be wrong here, that thing is Liverpool boss Brendan Rodgers insistence on sticking with the same tactics time and again. One of Albert Einstein's most famous quotes is about how insanity is doing the same thing over and over again and expecting different results — for the first hour of the match, that was us, bang on.
Despite his midweek antics, Mario Balotelli, predictably, was given the nod, and once again, predictably, he was set out to plough a lone furrow up top. At risk of repeating myself, which I'm going to do regardless, once again, predictably, we were heinous. That's not to say that we looked as disorganized as we did against Queens Park Ranger, or as impotent across the board as against Real Madrid, but in the early going, even when we looked like scoring, we never really looked like scoring.
A rare offensive header from Dejan Lovren was palmed away by third choice Hull City 'keeper Eldin Jakupovic, Balotelli's powerful shot from a tight angle was well saved by the Bosnian and Joe Allen's low drive from the edge of the area whistled past the post as the Reds meandered through the first period of play. Steve Bruce's side showed that they'll take their chances when they come against Arsenal last weekend and they were unlucky not to go into the break with the lead after ex-Tottenham Hotspur duo Jake Livermore and Tom Huddlestone saw their respective efforts go begging.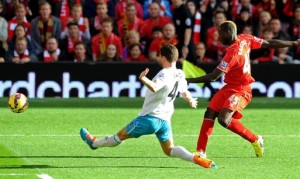 We looked to be in for more of the same after the break, but the script got a bit of a flip with Rodgers bringing on Rickie Lambert to partner the Italian up front and Philippe Coutinho to add some creativity to a midfield that was sorely lacking in ideas.
Let's just say it worked; while there was no magical opening of the floodgates to be had, Balotelli, and the rest of the side for that matter, looked better with another striker on the pitch. The former Southampton man held up play well, was intelligent in his ball distribution and brought another element to a team that has looked one dimensional at best since drubbing Spurs all the way back in August.
With Coutinho in full Samba mode, when we looked like scoring, we looked like scoring. The Brazilian's effort from 20-yards was just tipped over the bar by Jakupovic following a pair of near misses from Balotelli, and the Italian, who looked poised to win it right at the death with headlines just begging to be written, could only hold his hands in his head as the Serbian denied him with an instinctive save just inside the six yard box.
Frustrating? Yes. Liver shredding? Possibly. Season ending? Not even close.
Defending this side, the new faces and one Italian in particular might seem like an exercise in futility after our last three matches, but I'll persist. We looked good — not just better — in the last half hour and I think it hints at what's to come. A pair of strikers might seem passé to those of you who like the bleat on about false nine's and hitch yourself to whatever's en vogue in football these days, but this team has played its best football with two up top.
Rodgers is stubborn, but he's not stupid; it's hard to picture Balotelli, or Sturridge for that matter, playing up top by themselves if both are fit, and after his performance today, Lambert deserves a chance to form a partnership — even an interim one — with the 24-year old. Whether the Northern Irishman is trying to prove some sort of point by persisting with the Italian as the lone-man remains up for debate, but I think we've seen the end of it.
Unless, you know, the boss thinks he's smarter than Einstein.
–Steven