It's the Fear of the Unknown: Crystal Palace Match Preview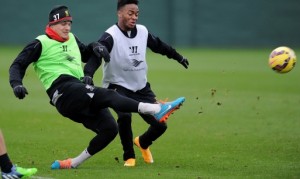 I think I'd be justified in saying that, after the events of last season anyway, I hate Selhurst Park. There's no way to talk about Liverpool visiting Crystal Palace without talking about the last time we took a trip there, so let's just get that out of the way, shall we?
With the title seemingly in our grasp, we chucked away a three goal lead to all but hand Manchester City their second title in only three years. Steven Gerrard's slip against Chelsea the week before may have been tagged for all eternity as the seminal moment that our title chances squirmed through our fingers, but if you ask me, that Monday night in London was really where the dream truly died. Did I mention how much I hate Selhurst Park?
Even when you take that particular horror show out of the equation, Liverpool's trips to the Croydon club haven't exactly been anything even remotely resembling pleasant. The Reds are winless in their last five visits in both league and domestic cup encounters — a stat that doesn't bode well for this Sunday's meeting at all when you consider that their last win came against Queens Park Rangers just over a month ago. To be fair though, Palace haven't faired much better.
There may be a renewed sense of optimism around Selhurst Park with the Reds visiting at such a low point in their season, but it might be a bit too soon for the faithful to expect too much. Eagles captain Mile Jedinak, winger Yannick Bolasie and midfielder James McArthur will all be last minute decisions for Palace boss Neil Warnock as he goes looking for only their second home win of the season.
Liverpool, as per usual, have their own injury problems to contend with. Although he looked to be on course to feature on Sunday, Reds striker Daniel Sturridge has suffered a recurrence of the thigh problem that initially started this whole hellish cycle of injuries. You can couple that with Mario Balotelli picking up a groin strain while training with Italy and Jordan Henderson's mild hamstring problem and it's not hard to picture Liverpool manager Brendan Rodgers reaching for something a little bit more potent than Advil to soothe this latest headache.
Should Balotelli remain sidelined by the time Sunday rolls around, you can flip a coin on who the Northern Irishman will name in attack. Despite bringing in Southampton man Rickie Lambert over the summer to "do a job for us", the 32-year old has found time on the pitch hard to come by — which is a bit strange considering that Fabio Borini, a player he strongly suggested should look for a new club to secure regular playing time, has enjoyed more minutes than him.
American horror writer H.P. Lovecraft said that the strongest of all human fears is that of the unknown, and though it's a bit out of left field to try to relate this observation to Sunday's match, it's what comes to mind for me when I think of our season. I don't know what we're doing and exactly who, or how, we're going to turn things around. Last year we knew what the plan was and who was going to execute it. Now, it's not as clear — and when that uncertainty is gnawing at you ahead of a meeting with Crystal Palace, you know that the trouble that was brewing has begun to ferment.
Did I mention I hate Selhurst Park?
–Steven