Balotelli Could Face FA Investigation Over Social Media Post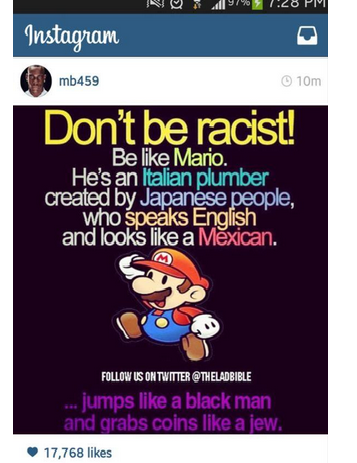 Picture courtesy of @AnfieldLeak
Liverpool striker Mario Balotelli could face an investigation by the Football Association after making an offensive post on social media that made reference to both race and religion. The Italian striker, who has been the target of racist abuse both on and off the pitch on a number of occasions, is no stranger to controversy, but this particular instance could not only land him in hot water, but also see a serious backlash from anti-racism groups.
The picture, shown above and posted on his Instagram account, contains the caption "jumps like a black man and grabs coins like a jew". Although the original post was hastily deleted, he could face retrospective action from the FA over his comments — something that has happened to other footballers in the past. Balotelli took to Twitter not long after to defend his actions by saying: "My Mom is jewish so all of u shut up please."
This, of course, comes on the back of Wigan owner Dave Whelan's ignorant, stereotypical comments about Jewish people in a recent media interview that incited a wave of furor throughout the footballing community. Whether or not Balotelli's latest indiscretion will provoke the same reaction remains to be seen, but more than one Kopite will be wondering why he's focusing more on making a fool of himself on the internet rather than returning to fitness and fulfilling his potential for Liverpool.