Reds Eyeing £8mil Move for "Cut Price" Ezequiel Lavezzi?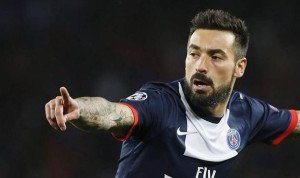 Despite having a whole stable full of under-performing forwards, Liverpool are said to be eyeing a move for want-away Paris Saint-Germain striker Ezequiel Lavezzi, who could reportedly be available for as little as £8mil when the transfer window opens in January.
The Argentine, who has only a pair of goals to his name in 18-appearances for the Ligue One billionaires this term, has not only apparently turned down a new deal in France, but if the papers are to be believed, he's also refused to meet up with Laurent Blanc's squad in Morocco for some mid-season warm weather training. This little bit of insubordination has led to reports that Lavezzi, rated somewhere in the region of £17mil during the summer, could very well be shipped out for much less next month.
Liverpool were repeatedly linked with a move for the 29-year old over a busy summer, but in the end they signed Mario Balotelli from AC Milan for about the same price the Argentine was apparently on the market for. The future of the Italian has been in doubt for quite some time with the controversial forward struggling on his return to England, but Liverpool boss Brendan Rodgers has ruled out an exit for him this winter. With injured powerhouse Daniel Sturridge set to return, a move for Lavezzi may be outside of the realm of possibility unless the Reds are able to shift another player — like the out of favour Fabio Borini — for a decent chunk of change.
Although Reds boss Rodgers has refused to comment on players linked to the Anfield outfit, he has confirmed that they're going to keep their eyes open for players that may fit their style of play. "I won't comment on any player linked to here," said the Northern Irishman. "My only concentration is working with the group here and if there is a possibility of strengthening in January, we'll take a look. If there's a possibility to strengthen, we'll look at that. [However] only at the right type of player."