Chelsea Preview: It's Not Then Anymore, Now It's Now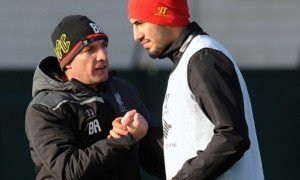 It's Liverpool and Chelsea in the semi-final of a cup competition — considering how many times this has happened, I don't think I really need to say much more than that.
These two teams have met 36-times in the last decade and 16 of those have been in cup competitions with almost each of them turning out to be truly memorable occasions. The Champions League provided a platform for a number of high profile showdowns over the years, but the League Cup has been a storied competition for these two teams as well with the 2005 final, a narrow win by Chelsea to capture their first piece of silverware under Jose Mourinho, the choice cut for Blues fans everywhere. That, of course, isn't a moment that too many Reds choose to dwell on — including yours truly.
The past is the past though and Chelsea travel to Anfield tomorrow, as always, very much in the present. Looking unstoppable at the summit of the Premier League, the Londoners are the clear favorites to progress to the finals, though the Portuguese manager has endured enough bumpy rides on Merseyside to know that a place in the final is anything but a sure thing.
While his counterpart in Brendan Rodgers is almost certain to name what he believes to be his strongest side, Mourinho, unhampered by injuries, could very well hand a fringe player or two a starting role without having to worry about the quality of his squad dipping all that much. After missing three matches on the hop with a finger problem, first choice 'keeper Thibaut Courtois is in line for a recall, André Schürrle could go back in the shop window as speculation continues to mount regarding his future at Stamford Bridge and John Obi Mikel may find himself lining up beside the ever present Nemanja Matic in the middle of the park should Brazilian duo Oscar and Ramires be handed a break.
Liverpool, on the other hand, aren't likely to look all too different from the side that won at Villa Park at the weekend. Steven Gerrard is almost certain to return to the starting eleven in place of Fabio Borini as Raheem Sterling is pushed farther forward and Lazar Markovic is likely to make way for Adam Lallana who has worked through a thigh injury much quicker than expected. Whether or not Mario Balotelli, who bagged one of his only goals this season in this competition, will feature after missing out on Saturday's squad through illness, remains to be seen, though with both Rickie Lambert and Borini finding the net against the Villains, it's highly unlikely that we'll see the Italian get a run out.
What isn't up for debate though is whether or not this will be the litmus test for the Reds new formation. While playing three at the back has served them well — quite well to be entirely honest — over the last couple of weeks, Chelsea are a different beast altogether with the likes of Eden Hazard and Willian able to do major damage running in from wide. Couple that with either the brutish skill of Diego Costa, should the nationality confused forward start, or the pace and technical ability of Loic Remy playing off of Cesc Fabregas and Liverpool's fragile back-line will really need to show their tenacity to make it through the 90-minutes unscathed.
History, as in most cases but almost always whenever it comes to Chelsea, is on our side though with our League Cup record making for splendid viewing. In both of our previous meetings with the Blues at Anfield in this competition, we've come out on top and of our previous 14 semi-final appearances, progression to the final was only missed on three occasions.
As I said previously though, that was then and this is very much now. History may be a something to be proud of, but it's not going to help us tomorrow. We've got two legs to navigate before we can even think of making it to the final, though when you consider the deluge of trophies that Mourinho picked up after winning this competition for the first time, it's hard not to dream of Rodgers and this young squad doing the same.
–Steven