Martin Skrtel Looking Forward to Christian Benteke Challenge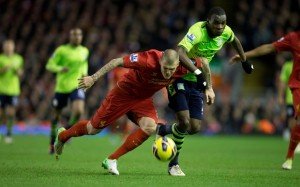 After sitting out the last three matches through suspension, Liverpool manager Brendan Rodgers will have defender Martin Skrtel back at his disposal. With the FA Cup semi-final with Aston Villa looking as tricky as ever, he'll be expecting the veteran Slovakian to take care of an in form Christian Benteke.
"It's not bad, to be honest. But I prefer to play against the type of striker like him, or like Diego Costa. When we go to the 50-50 challenge we see who is better in that moment. He is the type of player you have to expect that physical challenge because he is big and strong. He is quick also, so it will be difficult but we are ready for that and we will do everything possible to stop him," said Skrtel when asked about playing against the Belgian. "He is always difficult to play against but we played against him twice this season and we could handle him. I just hope we can do that again. He is playing well at the moment."
Benteke, who has eight goals in the Villains last six matches, has looked revitalized since former Tottenham Hotspurs boss Tim Sherwood took over at Villa Park and he'll be looking forward to squaring off against one of the countries most successful teams on the big stage. That being said, securing progression to the final won't be an easy task with Reds manager Brendan Rodgers looking to bag his first piece of silverware since taking over at Anfield.
"Obviously it is very important for him but not just for him, but also for us the players, the whole team, the club because Liverpool is a big club, one of the biggest in the world so we need a trophy," he continued. "Every footballer plays for trophies. This is the big chance and the opportunity for us to get one. I just hope we can get one this year. The [League Cup] semi-final against Chelsea was unlucky for us because I thought we were doing well, we created the chances but just couldn't score. Now is our other chance."