Aston Villa FA Cup Build-up: Sherwood Will Enjoy Himself, Benteke Does What He Wants and Cleverley Believes in Magic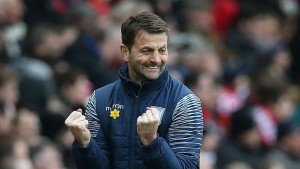 Aston Villa's Premier League status isn't completely safe quite yet, but the Villans won't be worrying about that one bit for at least a little while with Sunday's FA Cup semi-final meeting with Liverpool taking the focus directly off the relegation scrap.
After bringing in former Tottenham Hotspur boss Tim Sherwood for the struggling Paul Lambert in mid-February, the Birmingham based outfit have seen their fortunes turn around somewhat in the last couple weeks as they now sit a full six points clear of the drop zone with only five matches left to play. A narrow victory over his old side last weekend sees the Villa manager head to Wembley in full swagger, but also quick to admit that had they not snatched three points at White Hart Lane that things would be different.
"The momentum and confidence that we have now is huge. We will be able to enjoy it on Sunday now. We were never going to toss it away, that's for sure. We weren't going to go and play a weakened team – we can pretty much only put one team out anyway," he joked when asked about going to Wembley. "We were always going to give it the respect, but my mind would have been on the Premier League (had results gone wrong last week). As much as we want to go to the cup final, which of course we do, it's about staying in the league. But we will give it a real good go now and I can certainly focused one million per cent on it now."
After losing his first two matches in charge, Sherwood secured the Villans first back to back wins since early September with crucial victories over fellow relegation battlers West Bromwich Albion and Sunderland. Sherwood has now secured three wins and a draw in their last six matches with star striker Christian Benteke finding the net an impressive eight times during that run — which, of course, is terrible news for Liverpool supporters everywhere.
"It is not just about scoring. I am happy to score but I am also happy because now I play how I want to play. I think maybe before [Sherwood] came he saw that we needed to play more straight, more forward, because even if I didn't score we didn't shoot a lot at the target, we didn't score a lot also, so now it's a bit different," explained the Belgian. "The thing is, he has given me a lot of freedom, a lot of responsibility, and he has said to the other lads to play maybe more direct with me. When a manager says that, you feel more important, more responsible."
Veteran Liverpool defender Martin Skrtel may be looking forward to taking on the giant 24-year old, but he's likely to be the only one. The Reds don't have the best record against the Villans as of late with an early season reversal at Anfield still stinging despite us extracting revenge in the reverse fixture. Still, we have more than the Belgian hit-man to be worried about — something that midfielder Tom Cleverly pointed out.
"Looking at the semi-final, I think we have dangerous players. We have players who can win games. Look at the likes of Christian, Gabby and Delphy. They are right on top of their game," said the Manchester United outcast. "I am sure Liverpool will be assessing our threats and pointing out what we have got in our locker. We're coming into it in good form. We also have a good record against Liverpool. And, let's not forget, this is the FA Cup with all its magic. Anything can happen on any given day."
–Steven