Reds Reportedly Make "Official" Memphis Depay Approach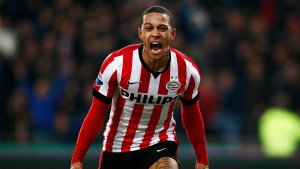 Although North West rivals Manchester United look the odds-on favorites to bring prolific PSV Eindhoven striker Memphis Depay to the Premier League, according to a Dutch journalist, that hasn't stopped Liverpool from opening talks with the club over a possible move.
With an impressive 20-goals to his name so far this season, the youngster is currently the top scorer in the Eredivisie and is attracting a lot of attention from all the big names. After bagging a pair of goals under then Netherlands boss Louis van Gaal at last summers World Cup, Tottenham Hotspur tried to tempt the newly crowned champions with a £14.5mil bid, but after choosing to stay with the Red & Whites for another season, he's going to be attracting a bit more attention and a lot more money this year.
"We have had a telephone call from them about him," said PSV technical director Marcel Brands, confirming that Manchester United have asked about Depay before putting the brakes on rumours that he's already on his way to Old Trafford. "But no talks have been held yet. There are several top clubs who have expressed an interest." Apparently one of those clubs is Liverpool and, if Marcel van der Kraan is to be believed, we're going in with both barrels blazing.
"The question still is will he go to Man U or Liverpool? Liverpool so far have the strongest contact with the club, they are in official talks – the board of PSV told us that. But then Man U first phone call last week made all the alarm bells go off, not just with PSV but with Depay because he will find his former manager there," explained the Dutch journalist in a recent interview with talkSPORT. "Last summer Spurs wanted to pay 20m euros which is about £15m. PSV wanted to take that but the player chose to wait and the transfer was postponed," he continued before hinting that the Reds are willing to splash the cash to bring the 21-year old to Merseyside. "With the progress the player has made PSV are not willing to accept that figure. They now want £25mil and I think they will get that. Liverpool have not been scared off by that figure."
Stay tuned…