Fan Groups Hint at More Action Over Ticket Prices in Wake of Successful Boycott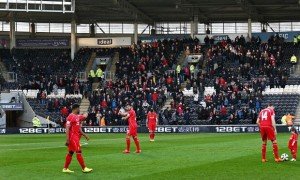 Although they didn't show it all too often, when the camera drifted from Liverpool's shambolic on-field display up to the empty seats in the away end, claims that up to 1,500 Reds supporters boycotted the match in protest of the rising cost of tickets didn't look far off the mark.
While the statement made yesterday sounded off loud and clear, the fight for affordable tickets is far from over. "The most telling aspect was that it was people you were used to seeing at Anfield. It was killing them not to be there. For some it was the first away match they'd missed all season; for some it was the first for several seasons," said Spirit of Shankly chair Jay McKenna. "If supporters want to and we feel it's the right step, we'll do this again. It won't be Hull again, it might be at Anfield. There'll also be demonstrations outside Anfield. Another element is talking to sponsors and broadcasters. There's a vital role they play in all of this – they don't want to show passionless grounds."
The new multi-billion pound TV deal has seen a league already flush with cash brim to near overflowing. Despite the injection of even more money, few clubs have taken action regarding the mounting costs of watching a match live with West Ham United — who have announced significant steps to reign in the sharp increase in prices — one of the few clubs with a clear, transparent plan of how at least a portion of their increase in revenue will be spent to benefit the everyday supporter.
The Football Supporters Federation has echoed the sentiments of the Liverpool protest, which SOS organized alongside fan group Spion Kop 1906, and called on all top flight clubs to dig deep to cap away tickets at £20 — less than half of what a normal adult ticket would have cost at the KC Stadium last night. "It's indicative of an increase in the temperature, fuelled by the TV money. It was quite an effective protest – it's a big ask for fans," commented FSF's chief executive, Kevin Miles. "Last night's protest very graphically illustrated what it's like when you have a half-empty away end."