Liverpool (1) Chelsea (1): We Knew Good Wouldn't Be Nearly Enough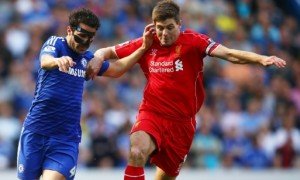 Considering the quality of the opposition, getting out of Stamford Bridge with a point isn't a bad result for Liverpool; now, given their situation, it did them absolutely no good whatsoever with the prospect of qualifying for next seasons Champions League now well and truly off the table.
Blues skipper Jon Terry set the pace for the opening exchanges when hooked around the amassed visitors before leaping over Rickie Lambert to nod home Cesc Fabregas's well taken corner before the match every truly got under way. With the title already in their pocket, the hosts started to look a bit lethargic before the break and they were punished accordingly when the object of the crowd's incessant ridicule in Reds captain Steven Gerrard pulled his side level with a header of his own. Unfortunately, that's all we could muster.
To be fair, the result wasn't all that surprising; maybe it's different if Fabregas is rightly shown a red card for his terrible tackle on Raheem Sterling within a minute of kick-off, maybe it's different again if the Spaniard gets a second yellow for dragging down the same player by the shorts not long after — that's neither here nor there and hardly matters at this point. That, love it or hate it, is football and to whine about the trivialities of it at this point and time isn't worth the key-strokes.
In the end, there's a good reason that Chelsea are the champions just like there's a good reason that Liverpool will be playing in the Europa League next season; as per usual, there was no seasoning or spice to the Reds attack. Often times the two teams cancelled each other out during the first half with either one going off the boil at points, but the visitors looked like they were going to bubble over during the second half with their approach play chalk full of pepper only to have their presentation in the final third end up bland and unpalatable.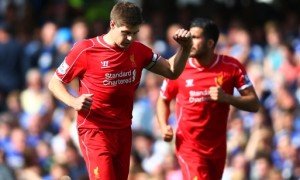 Their hosts were hardly the epitome of flavour and panache, but they don't have to be. The argument that Jose Mourinho's teams are boring can always be neutralized with the fact that they're always extremely hard to beat — especially at Stamford Bridge.
Lacking the almost pre-requisite swagger one would expect from a team that just secured the Premier League trophy, the Blues instead were content to do what they do best; contain, frustrate, counter, and most importantly, pick up points. That, of course, was exactly what they did — though they got a bit of help along the way with the Anfield outfits inability to capitalize on anything resembling a chance the on-going, and unfunny, theme to a season to forget. Gerrard, who left the field with eleven minutes left to play to a standing ovation, was a odd withdrawal considering the scoreline, but by that time the introduction of Nemanja Matic for the hosts on the hour mark had already closed things down.
Philippe Coutinho, quite often the one shining light in the business end of the pitch, saw a deflected effort clawed back by Blues 'keeper Thibaut Courtois after the Belgian was caught wrong footed before both Emre Can and Jordan Henderson saw efforts fly wide as Liverpool earned themselves what was actually a good point on the road, but we all knew that "good" was going to be nowhere near enough.
Europa League next season? That's about the speed we're operating at and unfortunate as it is to say, just about more than we deserved. I can go on about our poor start to the campaign, our inability to capitalize on the slip-ups of other teams and injuries that made what was always going to be a hard job even harder, but it's not time for that quite yet. We've got two matches left and possibly the greatest player in Liverpool's history to say goodbye to before I tread that territory — honestly, I'm not looking forward to any of it.
–Steven