David Moyes Laughs Off Liverpool's Interest in Real Sociedad Defender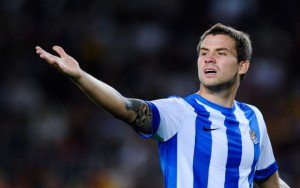 Buying top talent is never easy for a club that operates within strict financial parameters and is without the allure of Champions League football to add any icing to the cake. That, of course, is a situation far too familiar for Liverpool and one that they're going to have to reacquaint themselves with this summer.
This particular set of challenges, which can be trying at the best of times, is only complicated further when you run into a club that really has no interest in fielding offers that don't meet their valuation. This story, which is another tale Reds supporters around the world know quite well, is exactly what we ran into earlier this week when our rumoured bid for coveted Real Sociedad defender Inigo Martinez was turned down by the Basque outfit.
They value the 23-year old somewhere in the region of £21.5mil, but it sounds like we're a ways apart on that with an initial offer of £14.3mil flat out rejected by the club. If that's not a sticky enough situation, you'd do well to remember that Le Real are currently managed by former Everton and Manchester United boss David Moyes — someone who has absolutely no love for the Reds.
Obviously seeing the funny side in all this, the Scot was rather light-hearted when asked about the Anfield outfits interest in his prized defender. "You don't think I would sell anyone to Liverpool do you?" was the Scot's cheeky response when asked about the Reds offer for Martinez before pooh-poohing the story entirely. "I haven't had any contact. I think it's just press speculation."