Adam Lallana Aims to Kick On After Poor First Season at Anfield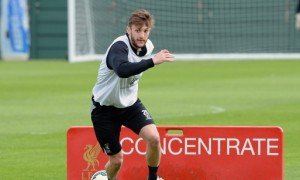 A niggling spat of injuries has kept Liverpool attacker Adam Lallana from realizing his potential at Anfield since his big money move from Southampton last summer, but the 27-year old is fully confident that he can put his poor start to life with the Reds behind him and improve dramatically next season.
"It's been up and down this season for me picking up lots of injuries which have prevented me from really kicking on, but I'm excited for Saturday's game and we want to finish the season off with a couple of wins," he told the clubs official website. "I'm working on my finishing and am always looking forward to improving my game. At the start of the season I wanted to get into double figures, which I haven't managed to do, but I'll be looking to improve that next season."
Lallana, signed on the back of an amazing season with the Saints, is just one of those players that has failed to find their groove in the famous red shirt. With long serving captain Steven Gerrard's exit just around the corner, the Reds will have to learn to deal without a true legend of the game, but surrounded by young players brimming with potential, the England man believes this side will soon learn to do just that.
"I don't think it's really hit home yet. The weekend is obviously going to be emotional especially for Stevie himself, but we've also got another game away at Stoke City so it's going to be different with a lot of different emotions," explained Lallana. "We've mentioned it before, but every player is going to have to pull their weight and give an extra few per cent, because I don't think there's one player or a group of players that can fully replace him. This group is full of leaders and I think it's a perfect time for everyone to step up and express themselves to a bigger degree. Liverpool is a fantastic club and I feel next year can be the stepping stone for many good years to come."