Tottenham Hotspur Preview: Reds Looking Likely to Split the Difference at White Hart Lane
Only two matches in to the season and we've seen the best of Liverpool's attacking prowess in the 4-3 win over Arsenal at the Emirates Stadium as well as the frustrating worst of it as the Reds came up short to newly promoted Burnley FC despite keeping their hosts to only two shots on net and commanding a staggering 81% possession throughout the 90-minutes.
When we visit the Capital for the second time this season, it'd wouldn't take a real stretch of the imagination to see us splitting the difference; in two outings, we've been from one pole to the other, and it's time we settled somewhere in the middle. It's been seven matches on the hop since we lost to Tottenham Hotspur, but our last two encounters have ended in a stalemate — and that includes Liverpool boss Jurgen Klopp's maiden voyage in the Reds hot-seat.
Maybe the German manager looks back on that outing with a kind of fondness, but there's no question that he'll be looking for a better result this time around. After the Clarets got one over on them, he watched on with a smile as they responded in kind with a 5-0 thrashing of Championship side Burton Albion on Tuesday, but it goes without saying that Spurs will offer an entirely different challenge. Sadio Mane, who sat out the trip to Turf Moor last weekend, returned to the starting eleven and put in a Man of the Match performance as a cheeky Divock Origi back-heel, a Roberto Firmino header, a Daniel Sturridge brace from the bench and Emre Can forcing an own goal saw the Anfield outfit run rampant.
While it all ended in smiles, there were some casualties from the League Cup with Origi's late cramp and Can's ankle problem all but ruling them out of action at the weekend. Philippe Coutinho, who didn't feature, is also likely to miss out with a tight hamstring. Joel Matip could be given his Premier League bow after a steady performance at the Pirelli Stadium and Alberto Moreno could be restored to the back four after sitting out the last two matches following his shambolic defending in the opening day win over the Gunners. After airing his displeasure at being played out on the wing, it'll be interesting to see where Sturridge ends up for this one with the 26-year old reiterating the fact that he'd rather be playing in his preferred central position.
"I don't want to play Daniel as a wide player but of course he can start there and play there but in the decisive moments he needs to be involved in all the finishing situations," said Klopp, speaking to the press ahead of the meeting with Spurs. "I think both goals [against Burton] he scored inside the box so he was not on the wing in this moment – that is flexible football. That is how football works, it is not a fixed position [where you] stay outside and wait until you get the ball – especially not in Daniel's case," continued the German. "Daniel is a very smart player in hiding himself in positions where it is not easy to defend and it is very often in a wing position. I know him and when we have talks there is no issue."
At the other end of the pitch, there'll be no question where Tottenham boss Mauricio Pochettino will be playing his star striker. Even though Harry Kane has never scored a Premier League goal in August, he'll be front and center on Saturday with compatriot and all around partner in crime Dele Alli more likely than not playing in support. Goalkeeper Hugo Lloris is still sidelined with a hamstring problem which means Michel Vorm will remain between the sticks — a daunting task for the Dutchman if Liverpool can get their attack flowing. Southampton old boy Victor Wanyama, who popped up with a later winner against Crystal Palace, could be key to keeping former teammates Adam Lallana and Mane quiet come Saturday with his manager well aware of what the Reds can do when they're on their game.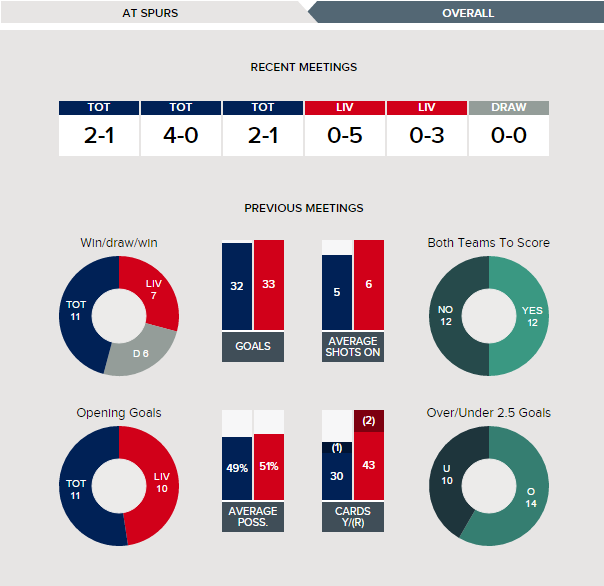 Premier League stats courtesy of Kick-Off
"They [Liverpool] are quick, they have good organisation, they love to counter-attack," explained the Argentine. "It's different to us. We like to manage the ball, play in possession, play in the opposition's half – we are a different team with a different philosophy," continued Pochettino, keen to set his side apart from a team they've traditionally struggled against. "It'll be tough – they come from a difficult loss against Burnley and they'll want to give their best."
Now, just what our "best" looks like remains to be seen. We may have scored four against that other team from North London, but we also gave up three in the process — it made for some edge of your seat football, but that kind of defending can give you a heart attack. Personally, I'd be happy to land somewhere in the middle; we know we can score goals, now let's work on keeping them out.