Klopp's Reds Looking Like Real Title Contenders After Watford Win
Liverpool…Top of the League
A famous chant that echoed around the terraces of Anfield many times in the famous days of Shankly, Paisley, Fagan and King Kenny. Well now it's back…
6-1 up with the game all wrapped up, the chant of 'Liverpool…Top of the League…Liverpool, Liverpool Top of the League' was sung proudly and with real belief from the Anfield faithful. Though watching Liverpool's rout over Watford on Saturday afternoon on the telly, hearing that chant raised the hairs all over my body in an instant, making me consider the possibility that the Mighty Reds could achieve a league title, the first I would ever see.
After Manchester City drew to Middlesbrough and the North London derby finished all square, Chelsea battered Everton 5-0 putting Antonio Conte's Blues on top heading into Sunday. The realization for myself and other Reds fans that we could go top of the league heading into another boring international break, something I thought would not be achievable especially following the defeat to Burnley early on in the season.
Title Contenders?
There is no doubt that Liverpool have been the most entertaining side to watch so far this campaign. With Jürgen Klopp's system in full swing, the Mighty Reds sit top of the league for the first time since May 2014. Following the thrashing of the Hornets, there is no denying that the Reds must be considered a major threat in the title race.
There are two key elements to why Liverpool have the best chance to win their first league title in what has been an agonizing 26 years.
Goals
Obviously without scoring goals then it makes it impossible to win the league, having that player who can get you 20 or more league goals is crucial. In the past 6 seasons the team who has won the league has had a player score at least 20 league goals.
| | | | | | | |
| --- | --- | --- | --- | --- | --- | --- |
| 2009/10 | 2010/11 | 2011/12 | 2012/13 | 2013/14 | 2014/15 | 2015/16 |
| Drogba-29 (Chelsea) | Berbatov-21 (Man Utd) | Aguero-23 (Man City) | Van Persie-26 (Man Utd) | Yaya Toure-20 (Man City) | Costa-20 (Chelsea) | Vardy-24 (Leicester City) |
However, for Liverpool this season, it is questionable to determine the Reds title credentials based on having a 20+ goal scorer. What Jürgen Klopp has instilled in his team is that goals can come from anywhere on the pitch. Ultimately, that is what Liverpool have produced. After the opening 11 fixtures, Liverpool have had 10 different goal scorers contributing to 30 goals, the most scored this season. Liverpool's front three of Philippe Coutinho, Roberto Firmino and Sadio Mane have scored 16 of the 30 between them, meaning just under half of the goals have come from the midfield and defence. Compared to Brendan Rodgers' side that were runners-up back in 2013/14 who at this stage had scored 21 goals with only 5 different scorers and finished the campaign with only 12 goal scorers in total with only 3 hitting double figures. If Liverpool keep up there fine attacking displays, then we could be in for a hell of a ride this season.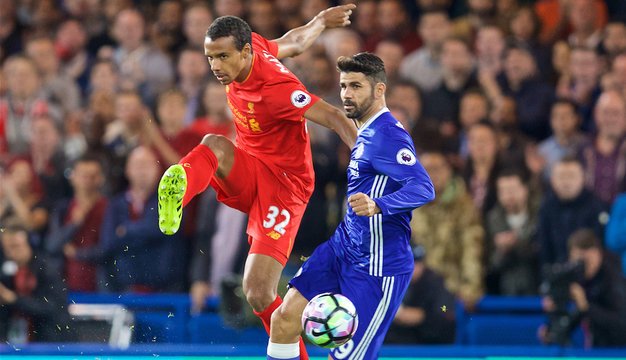 Fixtures
Back in July when the Premier League fixtures were announced for the upcoming campaign, there was a sense of uncertainty on how we would find ourselves in a position to challenge for fourth place, let alone the title. Looking on from then, it has given me great optimism considering the tough start we had. After away trips to Arsenal, Spurs & Chelsea and Man United at Anfield, the Reds racked up 8 points out of a possible 12. I'm not one to look at a run of fixtures and say we should get wins here and there. But it really is hard to not look, and for those who do, following the international break, Liverpool have a run of fixtures that could realistically cement their place at the top of the league come Christmas day.
Last Monday following Liverpool's 4-2 victory away to Crystal Palace on Super Sunday, Jamie Carragher spoke out about what no European football has done for Liverpool. Comparing this year to the Reds last title challenge in 2013/14, "…their intensity with the ball and the way they closed people down was reminiscent of a couple of years ago". Carragher put that down to, "that extra energy, intensity, closing people down, fast football." No European football for the Reds has been the key to our recent run of success, allowing Klopp's high pressing game to succeed thus far.
Defensive Vulnerabilities?
5 goals to the good and cruising to a clean sheet only to be denied what would have been our second of the season. Klopp's side, although have been superb attacking, have been suspect at the back. Last weeks 6 goal thriller at Selhurst Park is the perfect example. However, though there have been vulnerabilities at the back, Klopp has found himself a solid central defender in Joel Matip whom has been a real leader in the defence, improving week upon week. What could be a determinant factor for Liverpool if they are to be considered real title contenders is their inability to keep clean sheets. We all seen it 3 years ago which could be the definitive answer to why we failed to win the league.
Final Word
To think that the Mighty Reds are currently the best team in England is something that fills me with great pride and joy. Sitting top, 5 clear of 5th place Tottenham Hotspur after 11 games is something that needs to be enjoyed. Who knows what will happen come May. For now, let us just enjoy the situation we have found ourselves in. 'Liverpool…Top of the League…'