Salah Capture Shows Liverpool Aren't Fooling Around in the Transfer Market
He may have arrived in a round-about way, but Mohamed Salah is finally a Liverpool player. After coming within an inch of making the move to Merseyside in 2014, the 25-year has endured less than fruitful spells with Chelsea and then with AFC Fiorentina before finally finding his feet with AS Roma — and, those feet were so good, that they convinced the Reds to not only work through a prolonged and frustrating negotiation with the Giallorossi, but also part with an impressive £34mil to secure his services.
"Everyone knows Liverpool is a very big club," explained the Egyptian winger, speaking to the club's official website. "We have fans everywhere around the world. You can see on Twitter and Facebook that fans are crazy about [the club]. I'm happy for that because I feel the love from the fans," continued Salah, speaking from the heart. "I feel the love from the fans in Liverpool here and I'm happy about that."
Video courtesy of @MrBoywunder
And, on the flip-side, we're happy too. Scoring 19-goals for the Italians as they finished runners-up to Juventus in Serie A, the African attacker was key figure in Luciano Spalletti's side, upping not only his profile on the continent, but in Europe as well. Highlighting our need for more depth on the wings on a number of occasions, Reds boss Jurgen Klopp was paying close attention and now has in Salah exactly what he was looking for and possibly a little more.
"Mohamed has the perfect mix of experience and potential – this is a really exciting signing for us," said the German manager, finally able to speak publicly about the 25-year old winger. "He knows the Premier League, he has pedigree in the Champions League and he is one of the most important players for his country," added Klopp, clearly excited to see how he's going to gel with the rest of the squad. "His record in Italy has been outstanding and he possesses qualities that will enhance our team and squad. I have followed him since he emerged at Basel and he has matured into a really good player."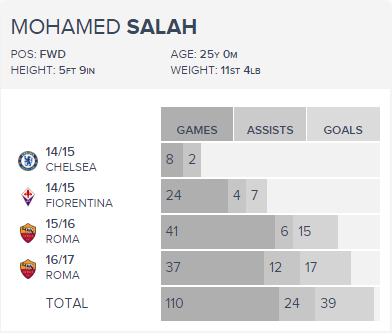 Stats courtesy of Kick-Off
It may have taken longer than expected to complete, but the best deals are never easy. Roma, for their part, made it clear from the get-go that they were not about to roll over and play dead just because Liverpool threw some cash at them. An initial bid of £28mil wasn't going to cut the mustard with Giallorossi sporting director Monchi driving one of his famously hard bargains — a situation that the Reds may have walked away from before. Lessons, it appears, have been learned; not willing to be taken to task and at the same time unwilling to let go of their target, compromises were made and ambition was clearly laid out. Fenway Sports Group may still be a bit wet behind the ears when it comes to the crazy world of football transfers, but they're learning and the capture of Salah shows they're no longer so naive to mess about in the market.
"I'm excited," enthused Salah, going on to reveal that he's been keeping tabs on the club. "Liverpool haven't won the Premier League for a long time. We have a great team and very good players. I was watching the games last year and everyone was giving 100 per cent to win something," explained the Egyptian, seeing in his new teammates a familiar work rate. "Everyone can see the coach gives everything. I hope to see that together we can give everything to win something for the club, for the supporters and for us."
No longer the raw up and comer we tried to sign from Sweeden all those years ago, Salah looks very much like an attacker moving in to his prime. Klopp plays attractive, attacking football and the Egyptian has proved already that he's the perfect fit for his high tempo, heavy-metal system.