Liverpool Still A Way Off From Attracting Europe's Best?
After qualifying for the upcoming Champions League following a 4th place finish in the Premier League, Liverpool are already underway in recruiting new players to improve the squad in order to compete on all fronts and against the very best teams in Europe.
Jürgen Klopp has wasted little time in the transfer market this summer with the addition of England U20s World Cup winner and Golden boot winner Dominic Solanke from Chelsea, swiftly followed by former Chelsea winger Mohammed Salah from AS Roma, after some tough negotiating.
The Reds are still in pursuit of more quality players to provide a greater challenge for the upcoming season. Virgil Van Dijk of Southampton has been an ongoing saga that looks likely to drag out for some time with the Saints standing firm. Liverpool are still reportedly interested in RB Leipzig midfielder Naby Keita, who could cost the Reds up to £70 million. It has been reported that Manchester City are also interested in the 22-year-old, with Keita preferring a move to the Etihad over Anfield.
That begs the question…why are we not signing the best players?
Is it a question of Fenway Sports Group (FSG) not providing the financial backing for Jürgen Klopp? Or, simply, are Liverpool just not that appetising to the best players in Europe?
After only achieving Champions League football twice in 8 years, Liverpool's elite status has no doubt been damaged in that regard. Following a 2nd place finish under Brendan Rodgers in 2014, the Reds headed into the new campaign with less quality with the departure of Luis Suarez to Barcelona.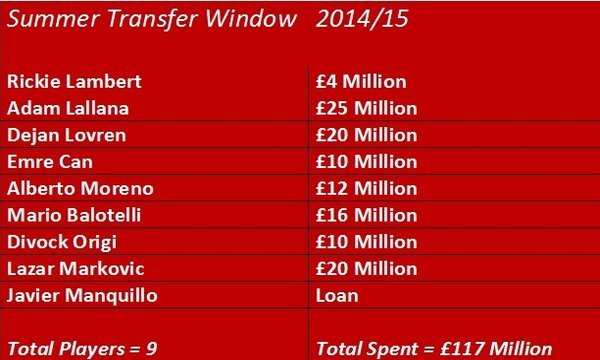 Despite five of the signings still currently at Liverpool, at the time, some of us were disappointed with the lack of quality brought in by Rodgers.
Are we experiencing the same thing under Klopp?
Absolutely not is the answer.
Already we have seen more quality being added to the squad in Sadio Mane & Joel Matip last summer and Mohammed Salah this summer. What is incredibly frustrating is some fans criticising FSGs commitment to provide funds for signing quality players. However, I believe this is far from the case. Though Liverpool can attract top players, we are still a way behind the likes of Chelsea, Manchester City, Arsenal & Manchester United, though it pains me to say it, that is the truth. It would be unfair to criticise John Henry for our missing out on top players to other top clubs.
Liverpool still have a long way to go to be able to sign the best & to be a stand out option for those players. Making the Champions League does not determine the ability to sign quality players. However, we are on the right track with Jürgen Klopp as our manager. With some consistency, Klopp can certainly attract better players over time. I fully back the German in his recruitment processes, particularly the recent rumour of Hull City left-back, Andrew Robertson. The Scottish international is heavily linked with a move to Anfield and appears the most concrete rumour as apposed to Benjamin Mendy of AS Monaco, who had previously been linked with a summer move to Merseyside.