NK Maribor vs Liverpool: Match Preview
A quick turnaround from the meeting with Manchester United on Saturday has Liverpool en-route to central Europe today where they'll look to give their Champions League campaign a kick-start when they square off with Slovenian champions NK Maribor tomorrow night.
Still unbeaten in Europe, but yet to claim victory, the Reds will be looking to do what they failed to do against their bitter rivals on Saturday — break down a packed defense and put some real points on the board. Having drawn with both Sevilla and Spartak Moscow, the Merseysiders sit in a precarious position in Group E and should they fail to pick up the win at the Ljudski vrt stadium, they may need to start talking about what happens if they're forced to drop down in to the Europa League.
Coming up against the proverbial bus, a combination of poor finishing and outstanding goalkeeping from Red Devils shot-stopper David de Gea meant that Jurgen Klopp's drew another blank against their bitter rivals. On the flip side, it also meant that they kept their first clean sheet of the season, but with the match there to take, it's not exactly a cause for celebration. With that being said, the German manager will be hoping to keep that defensive record going on Tuesday.
While he's not expecting to make too many changes from the side that drew with United on Saturday, he will recall compatriot Loris Karius to the starting eleven in place of Simon Mignolet and could give the nod to the likes of Daniel Sturridge, Andrew Robertson and Alex Oxlade-Chamberlain as he not only looks to pressurize their hosts, but keep a number of faces fresh for the trip to Tottenham Hotspur at the weekend.
"As I've said, I know how it sounds when I say this all the time because we don't have the results, but it's about keeping on going, doing the right things again and still improving," stressed Klopp, speaking to the press before departing for Slovenia. "There is space for us to improve, of course, but the shape in general is good," added the German manager, sounding humble but confident. "That's what we have to keep and I'm fine."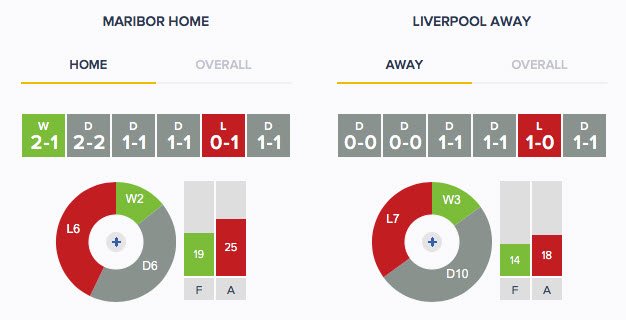 Infographic courtesy of Kick-Off
Having put up a decent showing against Spartak on Match Day 1, Maribor were given a lesson in European football last time out when they gave up three unanswered goals as Sevilla swept them off to one side — a night that boss Darko Milanic won't soon forget. The one time Leeds United manager will take a tip from United counter-part Jose Mourinho and look to concede possession to their visitors, flood the passing lanes with bodies and hope that Brazilian forward Marcos Tavares or Bosnian attacker Jasmin Mesanovic can sneak one on the break or get on the end of a set-piece.
We've seen it happen to this Liverpool side before and we all know we'll see it again.
Much like in the Premier League, there's no easy matches in Europe, but with that being said, this is one that the Reds should be able to manage with the relative ease that's eluded them since they rolled Arsenal over back in August. At this point, they don't really have a whole lot of choices — that is, unless they want to drop out of the Champions League. With only three matches left to play after tomorrow night, things are going to be tight enough as it is and with a trip to Sevilla still to come, we need to pick up the easy points and let the hard ones sort themselves out. No more of this doing it the hard way; it's about time we start doing ourself a couple of favours…