Maribor 0-7 Liverpool – Match Reaction
Do you feel better? I know I feel much better.
We've been expecting it for a number of weeks now, saying it's just a matter of time before everything clicks and we annihilate a team.
MARIBOR I AM SO SORRY BUT THIS HAS BEEN COMING

— Steven Carson (@StevenCarsonNR) October 17, 2017
It was Maribor! You can only beat what's put in front of you, so they say but what was in front of Liverpool was the Slovenian champions and a Champions League club – not a club that makes a habit of losing.
The win for Liverpool – and the dramatic score-line – now means that, far from convincing form, Liverpool sit atop Group E in the Champions League.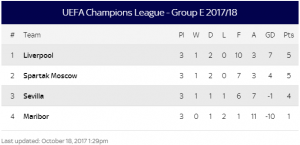 Sensational.
Right from kick-off, Liverpool were clearly the more dominant side; it took Bobby Firmino just under four minutes to score the Reds' first goal of the night and then the goals just kept coming.
Two followed in quick succession – one from Phil Coutinho and the other from Mo Salah.
The actual fellas pic.twitter.com/C7gF6ngo33

— Steven Carson (@StevenCarsonNR) October 17, 2017
You have to think about this too; Liverpool managed to 1) score seven goals in one game and 2) go 3-0 up within 20 minutes of kicking off…without Sadio Mane.
One thing's for sure, Liverpool are not a one-man club.
The hosts began to creep into the game once we had, barring an Istanbul-like-come-back, already won it. They'd registered a few shots on goal before half-time but nothing too concerning for Klopp.
Salah – or was it Firmino? – hit his second of the game just before the end of the first half, he and Bobby had quite literally the same idea and both ran from different directions to tap the ball into the net.
Game over.
The second half was more of the same, Liverpool looked as if they were playing an exhibition match at this point. As soon as Firmino got his second – or third? – of the game, in the 54th minute, and brought the score up to 5-0, Klopp decided it was time to slow down.
Cue substitutions for Alex Oxlade-Chamberlain, Trent Alexander-Arnold and Dom Solanke.
Oxlade-Chamberlain got into the game well, continuing an impressive showing against Manchester United in the previous fixture. Trent looked very comfortable on the ball – as he usually does – and Solanke came on purely as a cameo at the end of the game.
Former Arsenal man Ox managed to grab a goal too; a lovely run through the centre of Maribor's defence, a little dink from Daniel Sturridge and a finessed shot into the bottom right corner is all it took.
6-0 @AlexOxChambo ? pic.twitter.com/jQhFT1GpY6

— Liverpool Gifs (@lfcgif) October 17, 2017
Trent also got amongst the goal-scorers before the final whistle too; thumping an effort from thirty yards that found its way beyond the 'keeper, thanks to a generous deflection.
I was at a loss for words, to be honest, as can be reflected by my intelligent commentary on Twitter:
TRENT! SEVEN!

— Steven Carson (@StevenCarsonNR) October 17, 2017
Fun fact: Trent Alexander-Arnold, a 19-year-old, has now scored as many goals in the Champions League as Everton – two.
If you'd like to follow me on Twitter, you can do so here – @StevenCarsonNR