Liverpool Tipped to Keep Unbeaten Run Going Against Swansea City
Liverpool FC stepped up their game big time with a huge win over Manchester City FC on Sunday to help them to maintain 3rd place in this season's Premier League standings. City however still have a firm hold on top spot honours with a 12-point lead over 2nd place Manchester United.
Despite sitting 15 points back, Liverpool really made a statement in that victory, handing Man City their 1st EPL loss in 284 days — a run that saw 30 games come and go without a blemish on their record. This, if nothing else, will serve as a reminder that the current king of the hill can be made to bleed and furthermore, be beaten.
Perhaps even more staggering is the manner in which the game was won, with an amazing 2nd half flurry that saw 3-goals scored in just a 9-minute span. The Reds almost give it all away when they surrendered a pair of late goals, but they were able to see it through to the final whistle. It was a fitting end to a game which saw the two most successful offenses take to the pitch opposite one another and ready for battle.
Arguably there is no bigger contributor to that offense this season than Egyptian export Mohamed Salah. Since his debut in August he has netted 18-goals in the Premier League, good for 2nd place behind Tottenham's Harry Kane with 20. Those with a mind for betting can even wager on which comes out on top of the scoring leader-board by seasons end.
As of writing Kane is heavily favoured 1/3 with Salah as a highly valuable 5/1 underdog — you can research 5dimes for latest odds. Unsurprisingly, Salah finds himself as a key cog in Liverpool's success this season and hopefully many more to come. So long as they can clean up the issues on their back-line, Salah's scoring prowess should keep the Reds within the top 3 squads this season and maybe higher in years to come.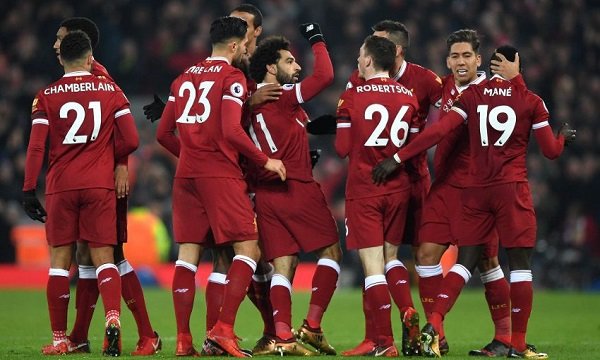 Scoring most likely won't be an issue in their upcoming match against Swansea City, who are squarely in last place and fighting against relegation. The last time these two faced-off, Swansea spent 90 minutes getting slapped around and sat in a 5-0 hole when the final whistle blew. With the Welsh side 4-points away from getting out of the drop zone, manager Carlos Carvalhal stated that he plans to rest players in the lead up to Monday's match as the Jacks square off with Championship side Wolverhampton Wanderers in the FA Cup.
"Yes, I will do that, for sure," he stated. "I will make changes. Our main competition is the Premier League," he continued. "We respect the cup, we respect Wolves, but we need to play players who are coming back from injuries, we must see the players and give them a chance also to play, so it's natural that we will make changes on Wednesday."
Not that this should make much difference, bookmakers are expecting a 3-goal game, and it wouldn't be surprising for the Reds to net all three of them on their own. As mentioned above, if Liverpool can sew up the holes they have in defense, the Reds could make a real go of it. The principle question at the moment is who will be wearing the #1 jersey at Anfield?
Simon Mignolet added to speculation that his time is up on Merseyside after dropping hints on Tuesday that his future may be elsewhere after telling Belgian reporters, "I must think of my own future" and that "this situation cannot take too long." That Loris Karius got the call to start in Liverpool's win over Manchester City was a clear indication on where the club sees their future headed. Mignolet is already rumored to be heading to Napoli while Liverpool is also showing interested in Roma's Alisson to bolster their options between the pipes.
Whatever Klopp & Co. decide to do, they should move quickly — at this point in the season a top-tier team should really have this figured out.