Liverpool 'In Talks' For AS Roma Stopper Alisson!
Though the January transfer window is long gone and the summer window is quite some time away, there are still plenty of transfer rumours flying about all over Europe and Liverpool are amongst the transfer rumour mill of late.
It was reported by Sky Sport on the 15th February, that the Reds are in early talks over the possible signing of AS Roma shot stopper Alisson Becker. One is never suede in believing rumours at this stage of the season. However, this is a rumour that I would hope to become reality in the summer.
The Brazilian keeper is being reported with a move for a fee in the region of sixty-million-pounds as the 25-year-old is highly valued by Roma and considered as one of the best in his position in the world.
Despite the being heavily linked for the Brazilian international, it is also reported that the link for AS Roma's number one is no longer being pursued.
This could very well be a save face for the Reds and Klopp as it may unsettle in-form Karius for the remainder of the season, something which can not afford to happen as for the race for top-four at its business end, also with still being in the Champions League knockout stages. At this point in the season, confidence is key. To publicly announce being in-talks for a new keeper is something that needs to remain obscure for the sake of squad moral.
Italian football is something that, honestly, bores me beyond belief with its sluggish intensity and its lack of great quality, not to say that the Italian league has no quality. However, compared to England, Spain & even the German league, there is no contest. I have never really paid much attention to the Italian league, so I am not too certain of the qualities that Alisson possesses.
Here are a few stats comparing potential new summer signing Alisson Becker to in-for Loris Karius and out-of-favour Simon Mignolet.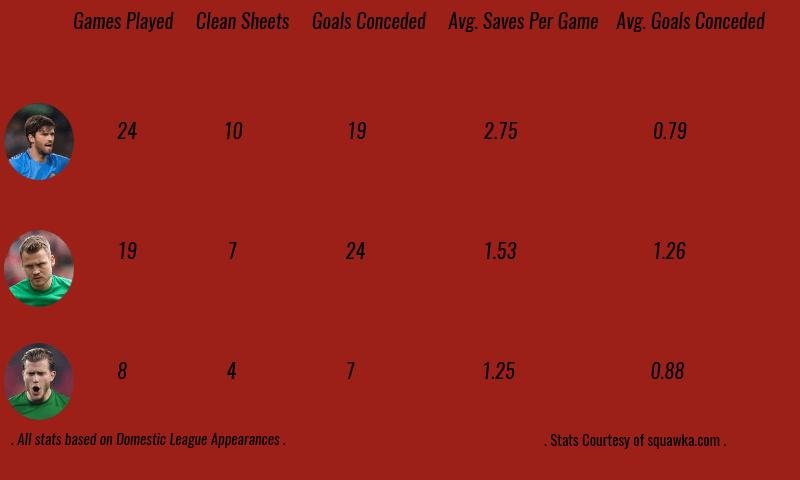 In the domestic league this season, Alisson's stats look quite impressive to say the least, though stats can never be proven for guaranteed success.
Jürgen Klopp has had quite the predicament over the last two seasons with his first-choice goalkeeper selection. Despite the German bringing in fellow country-man Loris Karius back in the summer of 2016 from Mainz 05, the 50-Year-old has elected Simon Mignolet as his number one.
That has recently come to an end following countless mistakes from the Belgian, costing his trust in the fans most definitely with myself. Not only is it the trust, but also has lost the Reds valuable points over his time at Anfield, particularly this campaign and it appears that enough is enough.
With Karius guarding the net for Liverpool, and in not so bad form of late, it can't be ignored that Klopp still needs a top-quality goalkeeper, and appears that the search is well underway.
For Karius, it is a question if the 24-year-old can have a convincing run from now until the end of the season and convince the Reds boss that he does not need to spend over sixty-million-pounds on a new goalkeeper.
What do we reckon fellow Reds. Does Jürgen Klopp need to spend big on a new keeper? Or, is Loris Karius going to become our number one for a long time to come?