Liverpool vs. Brighton – Premier League Preview
Brighton & Hove Albion travel to Anfield this weekend to face one of the 2017/18 Champions League finalists in a game that means absolutely nothing to them, other than pride, as they're seven points clear of the drop.
Liverpool need just one point on their home turf this Sunday and the Reds haven't lost a single league game at Anfield this season.
Jurgen Klopp's men haven't looked like getting into fifth gear since progressing to the Champions League final and I think it's pretty easy to know why — just look at how much I've written here about our Champions League campaign, neglecting to mention the Premier League more.
We've got one eye, and one hand, on the trophy in Kiev.
As the Premier League table currently stands, barring Chelsea winning by an unheard of margin, Liverpool need just a draw at Anfield to secure a place in next season's Champions League.
A win, however, puts a bit of pressure on Spurs as we could nick third off of them and that'll also give them some excitement going into their final game…meaning they'll probably bottle it.
Team News
Sadio Mane has picked up a fresh injury, according to Klopp, and will be rested for Brighton's visit to Merseyside. Luckily, Adam Lallana has recently come back into frame and is likely to get a chance to impress this weekend.
Emre Can is still expected to sit out the remainder of the season as the German looks likely to have already played his last game for Liverpool — sour feelings aside, I can't thank him enough for his impact on this season's campaign and, providing he goes abroad, I wish him the best.
Joe Gomez, Joel Matip and Alex Oxlade-Chamberlain are all due to stay on the sidelines for the remainder of the season but should be fit to go again next season.
For Brighton, Steve Sidwell and Isaiah Brown are ruled out the game this weekend.
Current Form
Liverpool's last six results (in all competitions) –
Liverpool 3-0 Bournemouth
West Brom 2-2 Liverpool
Liverpool 5-2 Roma
Liverpool 0-0 Stoke
Roma 4-2 Liverpool
Chelsea 1-0 Liverpool
Brighton's last six results (in all competitions) –
Brighton 1-1 Huddersfield
Palace 3-2 Brighton
Brighton 1-1 Spurs
Burnley 0-0 Brighton
Brighton 1-0 Man United
Man City 3-1 Brighton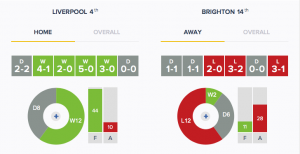 Prediction
I'd be lying if I said Brighton weren't playing some of their best football this season in the closing stages of the league so I know they're not going to be a pushover.
However, Liverpool haven't lost at Anfield in the league this season and I'd be mortified if Brighton are the team to be the first to leave with all three points — with all due respect, we've faced a plethora of more difficult teams this season.
Brighton seem to have a tendency of nicking a goal so I don't think a clean sheet is all that realistic to predict but I expect some of Liverpool's players to get into fifth gear.
Mo Salah is the player I expect to be setting the example this weekend, the Egyptian is closing in on a record-breaking season and if anyone on that pitch is putting the ball in a net, he'll give everything to ensure it's him.
I think the game will finish Liverpool 4-1 Brighton with Salah getting one goal — minimum.
Follow me on Twitter, if you fancy – @sjrcarson.