Manchester City vs Liverpool: Premier League Match Preview
Having sailed through the hectic festive fixture list with their unbeaten record and spot at the summit of the Premier League still intact, Liverpool visit the Etihad Stadium for a top of the table clash with Manchester City on Thursday with their hosts in an unfamiliar position.
A point behind second placed Tottenham Hotspur and seven off the league leading Reds, the Citizens have a substantial bit of ground to make up if they want to defend the crown, but they'll have to do it against a team they've struggled against time and again.
For all their dominance over the domestic game, the Sky Blues have only one win in their last eleven meetings with the Anfield outfit. The last time Jurgen Klopp's side rolled in to town, they they capped off a 5-1 aggregate win in the quarter-finals of the Champions League that saw a heavily favoured City side crash out of Europe.
The Reds really have been the stye in their eye.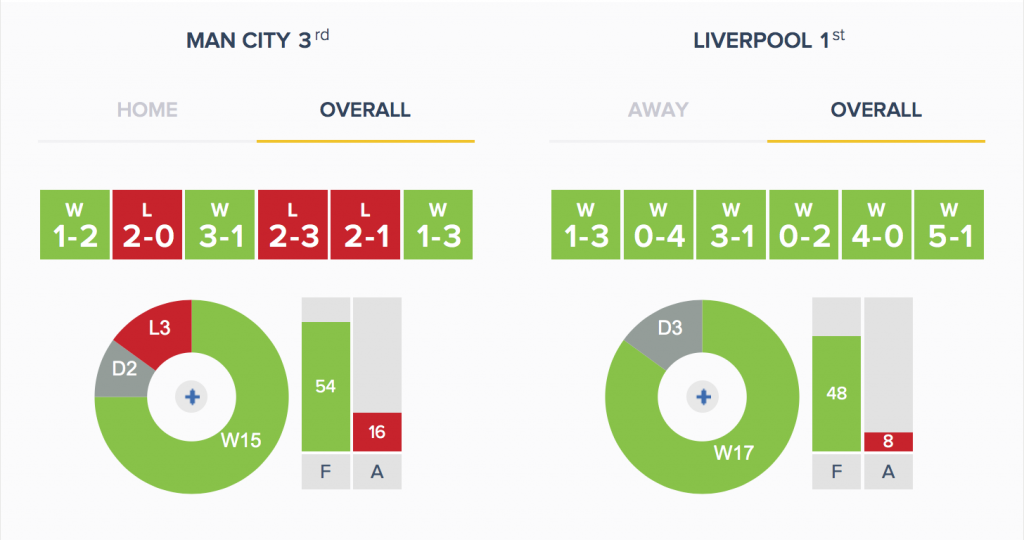 That isn't to say that City hasn't enjoyed more than their fair share of joy; a penalty shoot-out win in the 2016 League Cup gave Klopp his real taste of disappointment in English football and a resounding 5-0 win for Pep Guardiola's side in this fixture last season dented any chances of the Merseysiders mounting a real title charge.
Things, of course, have changed since then with Liverpool conceding a mere 8-goals thus far this season — only 3-goals more in the 20-matches they've played compared to that one afternoon in Manchester.
You can point to Liverpool's new found defensive soliditiy with the towering Virgil van Dijk and Brazilian 'keeper Alisson keeping things tidy at the back, but in reality it's been nothing short of a team effort — and Klopp could name that same team that put 5-goals past Arsenal in their last outing.
"It's a normal game against Manchester City, a very difficult one. It's one of the most difficult games you can play in the modern football world," mused the German manager, speaking to the press at Melwood earlier today. "They are a really strong football team with an outstanding manager. We have to be prepared as well as possible," continued the gaffer, rubbishing talk of the title and an ever widening gap between them and the chasing pack. "Nothing changed, only the points changed, but not the preparation for the game."
And, really, why would they change anything at all? What they've been doing has been working. Keeping City at bay is no easy task, but in their scoreless draw at Anfield earlier in the season, they proved it can be done, but the potential return of the talismanic Kevin De Bruyne to the starting eleven will make proceedings a tad more complicated.
Couple that with the dark arts that the fit again Fernandinho adds to the equation and things are even less straight forward — but what did you expect? Things are never easy at the top of the table and though even a loss wouldn't send the Reds spiraling off the summit, for all the nonchalance doing the rounds on social media, there's no question that these are three-points we desperately want.
No team has ever blown a seven-point lead on New Years day, but I for one don't even want to consider taking a chance. All the old clichés about this being a marathon still apply, but this is one particular race I'd like to win — not only to open a ten-point gap over Guardiola and his boys, but also just for the sheer joy of sticking it to the billionaires right in their own half-empty stadium.
I'm still a simple man at heart.