Liverpool's Title Pursuit Picking Up Steam
Having seen off Southampton 3-1 at St Mary's last Friday, Liverpool made it four Premier League wins on the spin.
If you include Liverpool's 3-1 win over Bayern Munich at the Allianz Arena and the mid-week 2-0 victory over Porto at Anfield in the Champions League, Liverpool have won six consecutive matches.
This is the kind of form manager Jurgen Klopp will hope his team can maintain as Liverpool seem to be matching Manchester City's winning streak at the perfect time at as the title chase enters its climax.
That said Pep Guardiola's side lost in mid-week having been beaten 1-0 by Mauricio Pochettino's Spurs at the Tottenham Hotspur Stadium in the Champions League.
If ever there was a time that City may be vulnerable, it is now. This is something manager Jurgen Klopp should be acutely aware of and his Liverpool side must keep winning in the Premier League to fully take advantage of this situation.
That would then exert more pressure on their rivals, making it more likely that they slip up. This weekend City travel to Crystal Palace on Sunday, whilst Liverpool are in action later that day.
Seeing as Liverpool are at Anfield in three of their final five Premier League games, they MUST make that home advantage count. Jurgen Klopp has continuously stressed to Liverpool fans to get an early night's sleep on the Saturday night, with no drinking or late nights and arrive for the Anfield kick off's an hour early.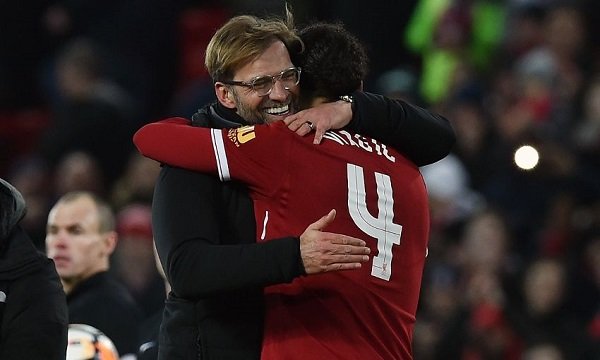 In this way, Liverpool fans can build an atmosphere that will motivate and support the players, whilst also providing a challenging environment for the opposition. They must continue to make Anfield a fortress.
So, in short Liverpool must be prepared for any slip ups from Manchester City and not let it get to them psychologically. A good example of this was when Newcastle did Liverpool a favour in January by beating Pep Guardiola's side 2-1 at St James' but Jurgen Klopp's team blew the chance to open up a seven-point lead at the top, and could only draw with Leicester City at Anfield.
In order to show they have learnt from this mistake, Liverpool mustn't let City's matches get into their head, and solely focus on themselves and the task at hand.
The best mantra for this is the old, one game at a time, taking each game as it comes approach. It works best because it keeps you in the present, instead of thinking in the past or future. Things that you may not have any control over at this moment in time. This is something Klopp should be keen to stress to his players.
Looking at Liverpool's last few victories, the win against Bayern Munich at the Allianz Arena was outstanding and has certainly given them the confidence booster they so desperately needed after some frustrating 0-0 draws.
They may not have played well in the 2-1 win against Fulham or the 2-1 home win against Spurs, but Liverpool won both matches and got the job done.
Such was the manner of those victories, winning late in the game is something that can give them huge confidence. James Milner's late penalty to see off Fulham and the own goal from Spurs' Toby Alderweireld, shows that Liverpool can dig deep and win when it matters.
It is also said to be the hallmark of great teams to win late in the game and do so when not quite playing at your best. This is a quality Sir Alex Ferguson's Manchester United exhibited time and time again. So, if Jurgen Klopp's side can emulate Fergie and win the Premier League with a string of late victories, that would be an outstanding achievement.
Going back to Liverpool's last Premier League game against Southampton last Friday, there were a few notable discussion points.
Having gone behind to an early goal, the fact that Liverpool fought back from a goal down to win 3-1 showed immense character from the players. That will be pleasing for Jurgen Klopp and his side.
Additionally, the way Liverpool attacked in the final 10 minutes and scored two wonderful goals to win the game was nothing short of phenomenal. And of course, having your best players step up to the plate when you need them such as Salah, Alisson, Van Dijk, Henderson, Firmino and Mane, is crucial in these kinds of matches.
St Mary's isn't an easy place to go and Hasenhüttl has turned them into a defensively strong side again. So, to win 3-1 the way they did is a testament to Jurgen Klopp's men.
The only concern from fans, urging on the side of caution, is that those frustrating draws that Liverpool had a few weeks ago aren't repeated.
Liverpool simply have to win every game in the Premier League. All of their last five matches are Grand Slam finals if you use a tennis analogy.
One criticism of Jurgen Klopp is the fact that his midfield hasn't attacked more. His most trusted midfield combination seems to be Milner, Henderson and Wijnaldum. All three sit very deep and defend meaning the strikers of Salah, Firmino and Mane have a lot less support.
This is a point that Sky Sports pundit Paul Merson has picked up on. The proof is in the pudding because Liverpool's midfield has not contributed anywhere near as many goals as Manchester City's midfield. The likes of Mahrez, Gündo?an, Sane have scored more than Milner, Henderson, Keita and Wijnaldum.
When you have the best defensive record this season in the Premier League and the world's most expensive defender in Virgil Van Dijk, having three midfielders sitting deep makes no sense. If Fabinho sits at front of the back four, that's fine but the other two midfielders NEED to attack and support the strikers.
In the last two games however, to Klopp's credit we have finally seen that for the first time since the beginning of the season. Henderson was allowed license to charge forward into the box and capped his performance with a goal against the Saints. Meanwhile, Naby Keita has been allowed to attack and scored two goals in his last two games. (Southampton and FC Porto)
Klopp did admit himself after the Southampton victory that it was his fault that Henderson hasn't attacked more lately. Hence it was nice he finally allowed his captain to join the attack.
So, all in all Klopp and his players must work hard on the training pitch to find a solution that marries those elements together so the midfield attacks more and can contribute some more goals. Especially in the big matches and at this crucial part of the season.
It is also a huge surprise that Xherdan Shaqiri seems to have gone missing from the Liverpool starting line-up since late January. He played incredibly well against Manchester United in December, coming off the bench to score twice. Whilst, the Swiss is still Liverpool's highest scoring midfielder this season.
Shaqiri was once hailed as the bargain buy of the season so it will be nice if he's given more of a chance in both the Premier League and the Champions League matches to come.
Having that extra goal scoring threat in midfield in the matches to come is pivotal. With Alex Oxlade-Chamberlain nearing full fitness, hopefully Liverpool's midfield can be firing on all cylinders again like it was last season.
Verdict
All in all, Liverpool should be very pleased with their last six matches and the progress they've made. They do however need to manage the psychological tensions and pressures correctly that the title chase inevitably brings. Not only coping with the historical perspective, but also the fundamental pressures of winning and any event that Man City slip up.
Jurgen Klopp's men must manage these pressures carefully in the coming weeks as Liverpool fans across the world pray their team can finally win the Premiership title.