First Half of the Season: Three Questions
Our crack team of writers ((or team of writers on crack)) all chose one question to ask each other. The questions are an attempt to take inventory of where the club is halfway through its Premier League campaign and what needs to be done in the future.
Which player has impressed you the most in the first half of the season?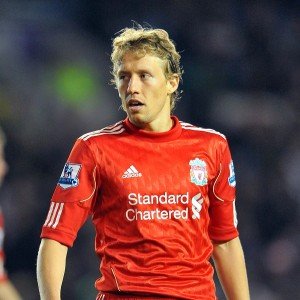 Grubb: Luis Suarez is obviously brilliant, however the player who has impressed me the most in the first half of the season is Lucas Leiva, who we will miss badly for the rest of this campaign. No other Premier League player has nullified David Silva so effectively before or since Lucas dominated him at Anfield, and no other player in the league closes space, collects tackles and covers his fullbacks so cleverly. A few more performances like the ones against City and Chelsea, and Lucas could have rightly claimed to be top class himself. One of the only players I felt we didn't have adequate cover for, losing him to such a lengthy injury is a real kick in the teeth. An honourable mention goes to Martin Skrtel, who is clearly more comfortable in the right-sided central defensive role than the left, and has had a fantastic campaign since returning from injury early in the season.
CSD: Martin Skrtel. He is the man who unseated Jamie Carragher from his solidified position at center-half. Granted, Carra's performances had been making it easy to look for a replacement, but Skrtel was the one who was ultimately chosen to be the regular starter. He has proven so far this season that he can be a threat from the air and has been very consistent in his defending. The last second clearance he made against Newcastle that saw him dive into the goal and crash against the center support is an illustration of the dedication he has for his position and the club. Skrtel played every Premier League match for the club last season and some wondered if he would have been picked at Agger been fit. This season has alleviated any doubt that the Slovakian is a first choice defender.
steven.: Although I agree with both choices my esteemed colleagues have mentioned, for me personally it's going to have to be Jose Enrique. An absolute steal at £5.5mil and a locked on starter for each match, the Spaniard has solidified a left side that has been a problem ever since John Arne Risse moved out-of-town. Pace, tricks, killer on the overlap, not afraid to put in a tackle and despite having weird eyebrows still manages to be a good-looking chap. Let's hope that form carries over for the second half of the season. 
What do we need to do to finish in the top 4?
Grubb: Score goals! The tactics are working brilliantly in all departments bar finishing, with Liverpool regularly dominating possession and creating more than enough chances to win handsomely – in basically every match except the debacle at Tottenham. Our defence is as good as any in the league, but because we aren't scoring enough goals for a top class side, we aren't getting the points our dominance deserves. I believe we should sign a striker in the January transfer window, someone with the knack of scoring that will capitalize on the plethora of chances we create. This should also have the added benefit of helping other players relax around the goals, because it's so much easier to finish chances when they are regularly going in.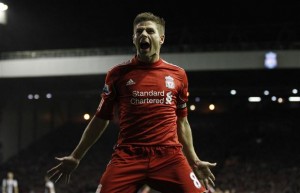 CSD: Steven Gerrard has to stay fit. Mark my words, if Steven Gerrard stays fit for the rest of the season, Liverpool will finish in the Top 4. The club have not just been missing Steven Gerrard as a player, but also as a leader. Sure Reina is a good guy and all, but he is not the personality who can come on the pitch and make the players around him better. He's called the Talisman and Captain Fantastic for a reason. It is very disconcerting when a player is out for as long as Gerrard has been, but he has already shown every ounce of class that he possessed before going out injured.
steven.: We need to learn how to grind out a result. All the chances we're creating doesn't mean squat if 3 points don't go up at the end of 90 minutes. Every top four side over the years has managed to magically turn draws into wins and take the points home against those tricky sides we continue to struggle against. If we continue to trounce Chelsea but struggle against Stoke then our goal of playing Champions League football next season will go unfulfilled.
If you were manager, what tactical changes would you make to the team to improve our form in front of goal?
Grubb: Only one tweak is required in my opinion, and it's a slightly controversial one in some ways. Certainly Luis Suarez is the best forward currently at the club. However Suarez is a creator first and a finisher second, and I'd like to see that reflected in the way he is utilised at Liverpool. Currently deployed as the centre forward, Luis is the one leading the line and playing closest to goal, even when Andy Carroll is playing. I think he'd be far more effective and dangerous if paired with an out-and-out striker – like the original plan was for Luis to partner Fernando Turncoat. If we do sign a finisher, I'd like to see him being fed by Luis's trickery "in the hole" and Steven Gerrard making those precise, penetrating passes from deep. Not only will the centre forward thrive (hopefully Carroll as much as any new player) but the pressure will be off Luis to dribble-shoot-score all by himself, as he seems to be trying at the moment. With the defence otherwise occupied, Suarez will have the space and time to pick his spot and show us that he really is a good finisher. 81 goals in 110 games (very few as a centre forward) at Ajax suggests he most certainly is.
CSD: The club seems to be able to do everything except put the ball in the back of the net. It is certainly unfair and uncalled for to be slagging off anyone in particular for the atrocious shot accuracy exhibited by everyone other than Bellamy and Maxi. When players find themselves in front of goal, they need to pull the trigger. It seems as soon as one of them miss a shot, they become hesitant to take another one. The hesitations gives the opposition time to close them down. The result is shots going wide rather than on target. There also needs to be more men in the box when fullbacks like Enrique and Johnson make a run. There is no excuse for a defender to make his way all the way to the opposition's byline to find no one in a good position to receive a cross.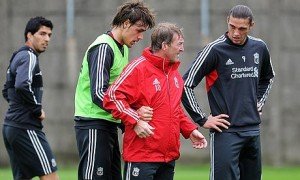 steven.: Shooting practice. All day, everyday. We don't need to worry about creating anything, just finishing it. I think Kenny can tinker until he's blue in the face and it wouldn't make much difference at all. Short of signing a new striker or widening the goal, it has to be shooting practice. All day, everyday. There's no excuse for our wastefulness in front of goal. I know the other two guys had more intelligible responses but I believe I'm right. No sprinting, no passing, no tackling; just shooting. If you miss the net, Skrtel get's to eat your pudding.