Manchester City: Part One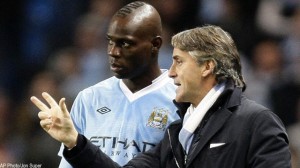 We're all about to get really sick of talking about Manchester City. If you're not already tired of hearing the press fall all over themselves to praise the billionaire squad, Italian manager and bottomless pockets, rest assured you will be by the time January is over. Tomorrow, we travel to the Etihad Stadium for the first of three meetings with Mancini's men which includes the two legs of the Carling Cup semi-finals.
The Blue's are coming off an shock loss against Sunderland this weekend when Ji Dong-Won rounded Joe Hart in the final seconds of the match to give the Black Cat's a last gasp victory and hand the Citizens only their second loss of the season. Liverpool, on the other hand, shook off their home hex by thumping Newcastle 3-1 at Anfield to go level on points with fifth place Chelsea and provide a perfect jumping off point for our midweek match.
Craig Bellamy scored a brace and could be locked on to start if Kenny believes his penchant for scoring against his old employers will continue. The Welshman has been in rare form when he get's the nod to start and could be a real shout for signing of the season. Tuesday may come too soon for Bellamy due to his age and constant knee problems but he'll have more than one chance this month to put one over on his former club.
Manchester City have been strong at home this season and will be looking to quickly bounce back from the loss to Sunderland to keep pace with their crosstown rivals at the summit of the league. An early flurry of activity can be expected through David Silva and Sergio Aguero but during our last meeting the two of them were all but neutralized by a now injured Lucas Leiva. The Brazilian midfielder continues to be missed as the gaps in Liverpool's midfield has been a problem on more than one occasion but the return of Steven Gerrard could help rectify the situation and return some much-needed bite to a sometimes toothless midfield.
Although the Captain may not be available to start, his cameo appearance against Newcastle bared serious fruit when he went on to score his 142nd goal in a Red shirt and the match winner. Luis Suarez will also be available after serving a one match ban for an obscene gesture and the prospect of finally having them both available takes the edge off what could be a very stressful match.
Our 1-1 draw earlier in the season showed that even though the Citizen's squad is packed full of what everyone else might consider big name players, they're far from invincible. The battle of wits between Dalglish and Mancini was resounding won by the Scot as his side controlled possession and chance creation. Even though a win at the Etihad tomorrow will further Manchester United's title hopes, taking home all three points is far more important than that and could give us that psychological edge we need in our subsequent matches with them.
–steven.
Give us a like on Facebook or a follow on Twitter.