Dire Liverpool Fail To Keep Pace At Bolton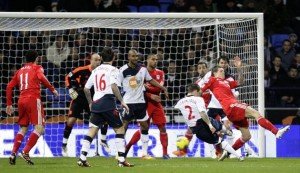 More points dropped and another head scratching, mind boggling performance from a wholly underwhelming Liverpool side. I was out most of the week, under the weather with a cold and didn't bother with a match preview since it was only Bolton. Only Bolton? We always win against that lot, don't we? Now, we can only laugh to hold back the tears as goals from Mark Davies, Nigel Reo-Coker and Gretar Steinsson sees Liverpool fail to capitalize on some favorable results earlier in the day.
With Newcastle being trounced by Fulham and Chelsea being held by the Canaries, the Reds had the perfect opportunity to bounce back from their draw at Fulham and right into fifth place. No perfect place to do it then the Reebok. Bolton have the worst home record of any top-flight side and haven't beaten us for a dog's age. Easy pickings? Not quite.
When the final whistle blew, you'd have to say fair play to Bolton. The Trotters put in a complete team performance while Liverpool looked disjointed all over the pitch, and at times, you wondered which side was the one trying to stave off relegation and which one supposedly had Champions League aspirations. Right from the hop, you had to wonder what was going on when Mark Davies was allowed to drift into the box unchallenged and slot home.
Up to this point, there were only 2 clubs who've scored more than a pair of goals against us this season, but Bolton isn't quite on par with either Manchester City or Tottenham are they? Even if our attack this season has been less than satisfactory, we've always had our rock solid defense to fall back on yet even that was failing today. Manchester City was the only side to concede less than us so far this season, but you never guess it by the display at the Reebok.
You'd think he had the plague the way the backline were staying away from him and not a challenge was put in until the ball had already hit the back of the net. Less than 4 minutes in and already we're making a hash of this? Something isn't right here, is it? Just over 20 minutes and a handful of futile Liverpool attacks later, former Manchester United winger Chris Eagles finds Nigel Reo-Coker, and the Bolton Captain makes no mistake, chesting down and volleying home, crisp as can be.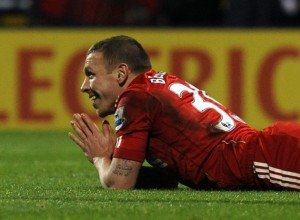 Craig Bellamy and Andy Carroll linked up well to pull one back before the break, and even then you would have still had some belief, despite the premium price being charged for it, left in the tank. With the summer signings again looking abhorrent, Charlie Adam completing on 59% of his passes throughout the match and Jordan Henderson shirking like a lily from 50-50 challenges, the Welshman was again the best player on the pitch also, ironically, the least expensive.
Any hope of a second half turn-around would be squashed by Gretar Steinsson with his first goal for Bolton in almost 2 years. Our appalling record of defending corners only got worse when David Wheater was inexplicably the only player to leave the ground on Petrov's corner kick. The towering defender knocked the ball down unchallenged for Steinsson to slot home and with that, even the most ardent Kopite knew there was no way back.
Months ago you would have seen a late surge with multiple tantalizing chances created and impossible saves from the opposition goalkeeper, but we weren't even treated to that. Daniel Agger saw his pile driver of shot ping off the crossbar and a few half chances fell by the wayside, landing right beside our belief in a top four finish. Even the introduction of Kuyt and Downing did nothing to spruce up a faltering attack, but by the time they were brought on, it's fair to say it was way too little and far too late.
Losing to Bolton at any stage in the season isn't welcome and with one eye on the midweek match with Manchester City, this dip in form couldn't have come at a worse time. Although the failings of our closest competitors hasn't weakened our league position all that much, our inability to capitalize and drive momentum is almost as painful as watching Owen Coyle smile at the end of the match. To be honest, I wouldn't be surprised if our habit of showing up only for the crucial matches persists and we beat City on Wednesday, but after a performance like that, I wouldn't be all that surprised if we get on the end of a massive kicking.
-steven.
Remember to follow us on Twitter and like us on Facebook. And take out the trash. Can't forget that!