Top Dog Carroll Leaves Wolves Licking Their Wounds
After the heights we hit last week, the resulting downfall seemed a predetermined fate. While a trip to Wolverhampton might not have been a concern a few years back, our less than consistent form had a few nails being furiously bitten; suffice it to say, running out 3-0 winners at the Molineux made the lot of us with gnarled fingers feel a bit silly. Second half goals from Andy Carroll, Craig Bellamy and a resurgent Dirk Kuyt piled the pressure on Wolves manager Mick McCarthy as his opposite number continued the rich run of results that's seem the atmosphere surrounding Anfield shift dramatically.
There wasn't much to talk about in the first half. It looked a bit too much like more of the same; dominance and pressure, but no end product to speak of. The addition of Jay Spearing, returning from the hamstring injury he picked up the last time we went to Eastlands, gave us a the defensive midfielder we've been lacking since Lucas got injured all those months ago. When all was said and done, young Jay completed 87% of his passes today, and it's safe to assume that had he been available for the calamity at Bolton, things would have ended a tad bit differently.
Halftime this season has almost always been followed by a hangover, but with our crossing improving dramatically and the pressure beginning to take it's toll, it was only a matter of time before we found a breakthrough. Surprisingly, it would come from two players who haven't quite found their stride since pulling on a Red shirt.
Charlie Adam has been having a torrid time as of late and his struggle for form has more than one of us wondering where exactly the Scotsman fits into Kenny's plans. Tonight, we got to see a bit of what the boss envisioned when after collecting a quick throw-in from Craig Bellamy deep in Wolves territory, his perfectly whipped cross found Andy Carroll darting to the back post. If you mention torrid times, the mighty Geordie is usually the first to come to mind, but a poachers finish saw Liverpool grab the game by the throat.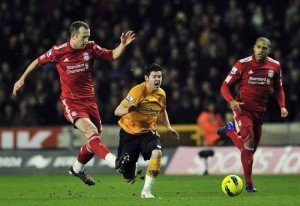 After the goal, Andy appeared to be a different player. He wasn't having a howler previous to that or anything; in fact, far from it, but it just goes to show that goals are the only thing on a strikers mind. Without them, the confidence isn't there and if a striker doesn't have that, then they have nothing. Just ask our top scorer, Craig Bellamy.
The Welshman has been by and far our best player since Luis Suarez was handed an 8 match ban, and that admirable form rolled on when Wayne Hennessey failed to hold his low shot from the edge of the area. Craig drew 4 players as he darted towards the penalty area, but with none of them willing or able to close him down, he scored his 6th goal in 7 Premier League starts. With Wolves looking well and truly beaten, we weren't quite done yet.
Charlie Adam was again the provider as a smart return ball from a Dirk Kuyt pass found the Dutchman all by himself. With the defense thinking the Scot would have a pop from just inside the area, the vision he displayed to thread the ball through to Kuyt will give us pause the next time we're ready to hurl abuse Chuck's way. Bagging a 3 pointer at the Molineux means we move into 5th, having played a game more than Arsenal, and reignites a once stagnant challenge to break into the top four.
With the ban to Luis Suarez ending and the squad brimming with confidence, there's only room to go up. We have Tottenham next which will prove to be a true test of our credentials. We may have left Wolves licking their wounds, but Dalglish won't be foolish enough to think that 3 points today will equal 3 points next time out. The work he's put into this squad is beginning to bear fruits; if we beat Spurs, we'll start the harvest.
steven.
How about liking us on Facebook or following us on Twitter? Well, how about it? Eh?