4-4-2 vs 4-3-3: Which Formation Has Been Better For Liverpool?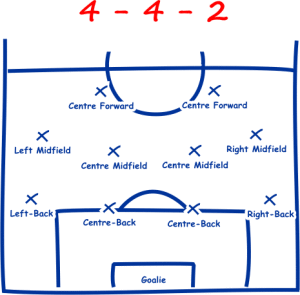 Watching Liverpool over the last few months, I had begun to develop a very strong opinion about our system of play: namely that 4-3-3 (or its variants, which we will get to later) suited our personnel better, and encouraged our pass and move style more than the 4-4-2 we started with at the beginning of the season. Most fans I talked to seemed to agree, 4-3-3 was producing better results. But we had no evidence. It was merely perceptions, and sometimes our perceptions can be wrong. So I endeavoured to collate our results using 4-4-2 based formations and compare them to our results using a 4-3-3 based formation.
Some Disclaimers:
Firstly I acknowledge that formations are but one of the many variables that influence results in football. Playing style, form, movement of players between positions, personnel, opposition, tactical changes within the game, substitutions, luck – the list of variables goes on and on. As I can't account for the majority of these variables, I'm going to completely ignore them. The focus of this comparison will be to look at the selection and deployment of players within a framework – a formation – and whether or not these initial selections (the "Plan A" tactics Kenny and co have chosen for each match) more strongly correspond to a favourable result, regardless of other contributing factors.
Variants: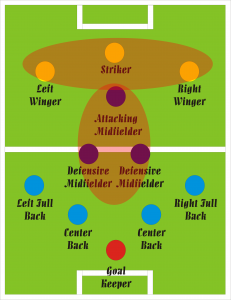 Most of the formations Liverpool have utilised this season are a direct variant of either 4-4-2 or 4-3-3, with the key distinguishing feature being the number of central midfielders being used. In a 4-4-2, there are two central midfielders in partnership (see diagram above); 4-3-3 uses three central midfielders, in various configurations.
What about the 4-2-3-1 I hear you say? Well Rafa-philes, the 4-2-3-1 formation is a 4-3-3 variant. They both have the same defensive shape, two wide attackers and one central forward. The only difference is the shape of the midfield, with 4-2-3-1 having a band of two midfielders deployed defensively and one further advanced. 4-3-3 is not as descriptive, only intimating that there are three central midfielders.
In the tables to the left you will see the same formation highlighted in two different ways to make my point.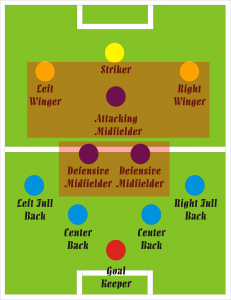 Both are essentially 4-3-3, but one has the front trio highlighted separately to the midfield three, while the other highlights players in horizontal bands a la 4-2-3-1. In reality, they are the same, 4-2-3-1 being a particular type of 4-3-3.
For the purpose of clarity, I have defined both 4-2-3-1 and 4-1-4-1 as 4-3-3 variants in this comparison. 4-4-1-1 was the only variant of 4-4-2 that we have used this season (of course we've used 4-4-2 itself plenty of times), although I defined the 3-1 win vs Newcastle at home as a 4-3-3 on account of midfielder Jordan Henderson playing the advanced role. When forward Craig Bellamy was deployed there (2-0 vs Chelsea away in the Carling Cup) I categorised it as a 4-4-2.
I have inlcuded the variant results in with the results of the parent formations (4-3-3 and 4-4-2, obviously). The source of formation data has come from Football Lineups, a fascinating resource worthy of any stats-junkie's bookmarks.
Results:


*Points calculated from all competitive fixtures (League, Carling Cup & FA Cup) in the comparison.
Going from this very basic data, it is clear immediately that our perceptions have been correct. 4-3-3 has been more effective, allowing us to win a greater percentage of matches and helping us to accumulate points at a higher rate. While I have been a bit naughty in calculating pretend points for knockout cup fixtures, I feel this gives us a better sample size to judge the worth of both formations.
From a winning perspective, our 4-3-3 has outperformed our 4-4-2. But what about from an entertainment perspective? Has it been more exciting? Have we been a more attacking force with 4-3-3, or have we just been luckier?


The goal-scoring data suggests we have been far more entertaining, scoring almost 2 goals per game using a 4-3-3 system. 13 games of 4-3-3 have seen three more goals scored than the number scored in 17 games of 4-4-2. Interestingly, but perhaps not surprisingly, the defense has conceded goals at a constant (and low) rate, irrespective of the shape of the midfield in front of them. A settled back 4 in collective good form is probably the reason for this consistency.
Verdict:
4-3-3 is working for Liverpool this season. We are scoring more goals and winning more matches when we play 3 in midfield. It is the formation that gets the best out of new boys Charlie Adam and Jordan Henderson. It is also the system that has best covered for the loss of key players like Lucas Leiva, Steven Gerrard and Luis Suarez during their periods of unavailability. Can it be the system that brings the best out of Andy Carroll and Luis Suarez? Or will we revert to partnering them in attack in a traditional 4-4-2?
It will be fun to find out.
-Grubb-
If you enjoyed the read, please like this on Facebook, or tweet it to your followers. Consider it my 30th birthday present!