Careful With That Hotspur, Eugene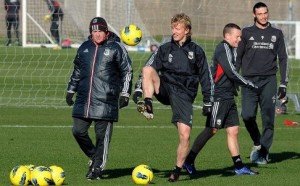 Forget the rivalries and the divisions down tribal lines. I believe one thing to be true, and this goes for whomever you may support: everyone hates Spurs. I think I've said it before, but the 4-0 thrashing at their hands did everything imaginable to re-enforce the notion. Maybe, I'm wrong. I'm sure there's a handful of neutrals, the shirkers that they are, who have a soft spot for Tottenham. I've been mistaken before and I will be again, but there seems to be little love for the boys from the Lane, unless you're wearing Lilywhite week in and week out. Lord knows, there's more and more of those each week.
Maybe Spurs aren't wracking up fans as quickly as Manchester City, but since they've begun to occupy the upper echelons of the table, there's been more and more of them crawling out of the wood work. Call it a fad; call it whatever you'd like. I'm not interested in discussing how large Tottenham's fan base is. The only thing on my mind, at this point anyways, is revenge.
With Luka Modric running things, our midfield was definitively outmatched. For the optimist, pre-match comparisons could have had things even, but the practical application showed the gulf between the two. Today, we maintain one of the sturdiest defenses in the league, but that early season pasting was the sound of the laughable calls for a title challenge being totally extinguished. In contrast, Parker and Modric continue to be one of the best central pairings in the league and Spurs position, 3rd overall, reflects that partnership working wonders. Thankfully, after a weak holiday period, we're rolling into this one on the upswing.
After sitting out the 3-0 victory at Wolves, Steven Gerrard will be restored to the starting line up, and with him, Luis Suarez will also be available after serving the remainder of his 8 match ban. The Uruguayan isn't expected to jump right back into the thick of things, match fitness and sharpness are both a question at this time, but if he does make an appearance, playing in front of the Anfield crowd that's stuck by him through this ordeal will be a joy compared to the venom he's likely to face to in the weeks to come.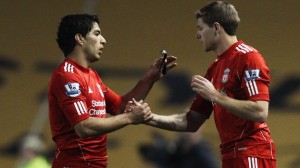 If you expect Gerrard to be reinstated into the first eleven, you can also be assured that Jay Spearing won't be the one dropping to the bench; at least, I don't think so. His return against Wolverhampton was a bit of a revelation. Without a recognized defensive midfielder, we've looked vulnerable with the ball played through the middle or when wingers cut inside. The return of Spearing and his ability to close down players trying to sneak their way into opportune areas, changes that and will be crucial to keeping Spurs at bay. Not that they'll be quite as menacing as the last time we met.
It's injury crisis time at White Hart Lane. Rafael van der Vaart, Jermain Defoe, Emmanuel Adebayor and Aaron Lennon are all carrying knocks; and that's just in attack. William Gallas and Tom Huddlestone are also, without question, unavailable for selection. The absences may give injury prone Spurs new boy and former Manchester United and Everton striker Louis Saha his first start. Speaking of injuries, Ledley King has yet to join the growing list of casualties, but manager Harry Redknapp, may soon be added to it as his tax evasion trial takes a turn for the worse.
Dalglish, on the other hand, doesn't have nearly as many problems. We could be back into 5th place, and only a point off 4th, if things go to plan tomorrow. Andy Carroll has apparently found his goal scoring feet. Craig Bellamy hasn't broken his knees. Luis Suarez is back and well rested to boot. Even Dirk Kuyt is scoring again. It's expected that the Dutchman will be on hand, more for his defensive prowess and a to track back on a certain Welshman, but you never do know for sure. Selection headaches are a rich piece of business, aren't they? Then, there's the question of where you play the players you've so painstakingly selected. Decisions, decisions.
There's also a matter of formation, which Grubb explored earlier in the day, but whatever Dalglish decides to do, he'll be doing it with one eye firmly on the table. I've said that your league form hasn't matched that of those one off days, but scoring 3 on the road last week gives us hope things are changing. Still, rolling over Wolves earlier in the week was one thing and disposing of both Manchester clubs in the cups another. Tottenham falls somewhere between these two; let's hope we don't let them slip between the cracks.
-steven.
Yes, I was listening to this while writing.