Sometimes, I like to say that this is just another match.
That won't be happening today.
It's been less than 2 weeks since Dirk Kuyt scored the winner in a tense FA Cup 4th round showdown at Anfield that saw the Reds knock their second Manchester based club out of a cup competition in only a matter of days. A 1-1 draw in October saw Liverpool dominate, but in what would become a theme for the season, we failed to turn a result. Despite the potential for another deadlock, this meeting of old foes will have everyone's attention.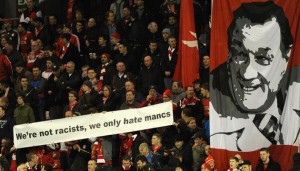 In the past, the media would be concern itself with superficial things. Pre-match handbags, managerial spats, imagined or invented slights, reductions in ticket allocations. Those kind of things. Tomorrow, whether he's in the starting eleven or not, will be all about Luis Suarez, and to a lesser extent, Patrice Evra. Even though the Manchester United defender was the supposedvictim, it's the Liverpool striker that will be watched and discussed to no end as the media monkey-wrench what should be a sub-plot further into the main story line.
With Luis making his first return to Old Trafford since this whole debacle kicked off, shouldn't we be discussing David De Gea? The rocky Spanish stopper remains a liability as Sir Alex Ferguson continually rattles his confidence by rotating him with Anders Lindegaard, leaving the question of who's Number One at Old Trafford up in the air. A number of significant errors have left question marks hanging over David's ability to cope with the pressure of playing at a high profile club. The return of Suarez, and the increasingly encouraging form of Andy Carroll will do nothing to help the young 'keeper feel at ease.
If the man between the sticks has Ferguson concerned, the men in front of him will also be weighing heavy on the Scot's head. A bit of a defensive crisis has hit the Manchester club in recent weeks as a mini-injury crisis sweeps through. Not only that, the central defensive pairing of Rio Ferdinand and Johnny Evans has been less than reliable; though, it may be worth noting that a Red Card for one of his defenders is no longer a sure thing as Nemanja Vidic remains on the treatment table. That's not to say that someone won't be given their marching orders. This fixture has a history of players losing their composure.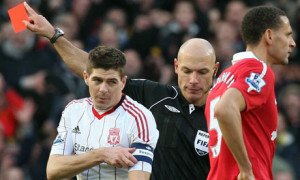 Despite attempts to shift the focus to the field, it's next to impossible to ignore the vitriol. Manchester United remain embroiled in the title race, while we look to not only scrape our way into a Champions League spot, but at the same time, ruin their hopes of lifting another league trophy. It's that thought, the one where slipping them up is almost as valuable as bettering ourselves, that leaves the outside world with the notion that we're obsessed with each other. In the same vein, if United could heap on the misery by putting even one goal past us, they would celebrate the points earned as much as the ones we'll go without. And, time invariably ticks on and on.
The defensive pairing of Daniel Agger and Martin Skrtel have taken no prisoners in their short stint as first choice center backs under Kenny Dalglish. Steve Clarke may have influenced this decision more than anyone cares to admit, but while the Gaffer takes the plaudits for making the difficult decision of dropping the legend that is Jamie Carragher, it's assistant manager Clarke that's been the mastermind behind the Reds construction of an iron clad back line. No matter how well they play, it goes without saying that we'll still be in for some tense moments as United look to strike early to avoid having to chase the game in front of their own fans.
Their fans? Never been a fan of them.
The bad blood between the two juggernauts of English football is well known, and almost as well documented. This latest spat between the two of them has done nothing to diffuse the powder keg of emotion that surrounds every meeting as supporters on both sides clamor for some imagined moral high ground, always looking to better their rivals at every turn and cross road. Tomorrow, things will be no different. This is never a pleasant affair.
While there will only be 2,000 some odd fans making their way into Old Trafford tomorrow, regardless of our numbers, we're still surrounded. There were always going to be more of them then there were of us. Bring your voice, whether your in the thick of things or on a futon halfway around the world. Keep your confidence, no matter what the scoreline. Support your players and ignore the bile raining onto the pitch. Trust in Kenny and know that we can win. The enemy is everywhere; but nobody seems to be worried or care…
–steven.