Tonight, Let's All Win Cups in London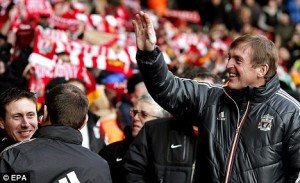 Embarrassing indifference and a lack of respect in years gone by has left Liverpool on the recieving end of some downright disasterous League Cup exits. There's no reason to recount them. You know the score; you may have even sat through a few of them. With a premium being placed on other competitions, bigger Cups and bigger matches, the red-headed step child of the FA became more of an afterthought then a serious push for silverware.  The blow of losing out in Cardiff back in 2005 to a crowd shushing Mourinho was eleviated a mere 3 months later when we lifted our 5th Champions League title, beating Chelsea along the way to the greatest final in the history of them all. Still, our absence from the mid-season finale, which we had previously won a record 7 times, and the subsequent trophy drought that would follow has placed renewed emphasis on the Carling Cup as a jumping off point for a new look Liverpool side led by an old, trusted friend.  Instead of the normal match preview mumbo-jumbo, each of us has something to say about our first trip to a Cup Final, any Cup at all, since 2007.
If I was a Cardiff supporter, Liverpool is the club I would not want to see my team up against on Sunday. A club like Chelsea or Manchester City might not put as much emphasis on the competition as they are focused on the Champions League and the Premier League, but Liverpool put priority on domestic cups early on and is keen to win. Cardiff City should be happy to be at Wembley, but to be fair, they have not faced anyone tougher than Blackburn during the competition. And let's face it, Blackburn might not even be in the EPL next season. Having dumped out both Chelsea and Man City, Liverpool have to be careful not to underestimate the Championship side. Funny things happen in football and it would not be the first time that an underdog took home the Carling Cup.

I have never been that excited about the League Cup. In fact, I thought it was kind of a joke. I mean really, what other country has two different domestic cup competitions? It's fun to reminisce about where we've been, but we have to consider where we currently are and that is in a state of rebuilding. No it's not the Champion's League or the FA Cup, but defeating Cardiff at Wembley could be the club's way of climbing the first rung of a very long ladder.

–CSD
I think that as far as the rebuilding project goes, winning the Carling Cup trophy may as well be our Champions League final of right now. Sure it's not on the same level prestige-wise, but we have an opportunity to start being a team that wins things – like we were under Rafa before the Parasites leeched all the money, momentum and happy-thoughts out of the club. It may be a tin-pot trophy (really, WHY two domestic cups?) but it's historic, we've won it plenty of times before, and winning small can be the catalyst for bigger things. At least Damien Comolli thinks so, citing Spurs' 2008 League Cup win as a major part of their current surge in prospects.

But which Liverpool will turn up? The ruthless destroyer of plucky Brighton? The dogged grafter against City over two legs? The defiant slayer of Chelsea? Or the fumbling kittens herded meekly towards their doom against relegation-threatened Bolton? I shall be watching from between my fingers until a lead of multiple goals is established, thankyou very much. Overall I believe we will have too much for Cardiff, but they do have players who can hurt us (particularly Miller and Whittingham) so I hope we are extremely professional and thorough in our approach to the game. I'm looking forward to seeing all of the breathtaking banners waving at Wembley, and I hope both sets of fans throw their full weight behind the Don't Buy The Sun campaign.

Liverpool 2-1.
Throngs of traveling Scallies descending on the Big Smoke. Scarves held high. You'll Never Walk Alone echoing around the walls of one of football's holy shrines. Swathes of Red banners hanging from the rafters. Dalglish celebrating like the fan he well and truly is, smile as wide as the Mersey tunnel. Fields of Anfield Road, Old Scouser Tommy, Just Can't Get Enough. The body blow of a Cardiff chance. Breathlessness following the counter attack. Liverbirds on our chest, the 96 always on our minds. Steve Gerrard passes the ball 40 yards. Jester hats, red and white checkered flags blowing in the wind. Vocals chords aching, fists clenched tight.

It's those Scousers again, the most storied club in the history of this competition. Result be damned; it's great to be back.