Moyes' Tragic Strategy Results in Gerrard Hat-Trick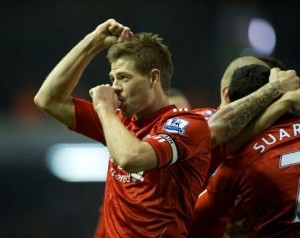 It never even seemed like a good idea on paper, so it is a wonder why David Moyes made an incredible 6 changes to the starting XI that faced Spurs last weekend. The next round of the FA Cup is still 5 days away and there was no travel involved in the Merseyside derby. Surely, you would want to put a strong team out to build confidence before the quarter-finals. Right? Well, that was Kenny Dalglish's strategy.
Bellamy, Johnson, and Agger were all absent because of various physical concerns. Although, one would not have guessed it by the pace of the game. Liverpool came out swinging and continued to pressure Everton throughout the match. Kelly had an excellent showing in the fullback roll, getting forward a number of times in dangerous positions. Dare I say it, most of the squad had a decent match. Henderson looked a little shaky in the right-midfielder role during the first half, but settled in. Dalglish eventually subbed him for Kuyt, who was only slightly better. Liverpool as a whole were much more patient in front of goal, putting 9 out of 16 shots on target. Maybe they are learning that the 25-30 yd shots are a waste of time. There was only one attempt of that sort I can remember and that was from Spearing who put the ball in row Z. Bad Spearing…bad.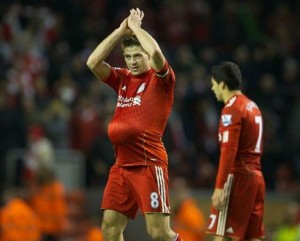 The man that everyone will be talking about is Steven Gerrard. Captain Fantastic first netted at 34′ when the ball fell to his feet after Martin Kelly's shot was saved. He provided a left-footed chip shot that sailed over all the defenders heads with just enough pace to ease into goal. Luis Suarez  had a role in Gerrard's two second-half goals, particularly the last. It looked as though Suarez was about to fluff a chance on goal, but he elected to pass off to Gerrard who had yards of space around him to take a shot that Howard had no chance of saving. Gerrard did thumb-sucking during his celebrating and put the match ball under his shirt, making him look like a pregger footballer. Apparently, there's another little Stevie on the way, so congratulations for that.
If you are a striker and you can't score goals, you have to work hard in other areas. That is exactly what Andy Carroll and Luis Suarez did today. Carroll was brilliant from the air and holding up play in the middle of the pitch while Suarez provided brilliant assists rather than losing the ball on wasted chances.
Much will be written about Adam not being in the squad and this apparently being the key to success, however, we should not overlook that Everton started with a depleted side. The difference in this match was that Gerrard was able to get forward with a number of other players. That has not always been the case when playing Gerrard and Spearing together. It worked this time, but will unlikely be a cookie-cutter strategy to be used against all opposition. Everton still had a number of chances on goal and a side with more quality might have capitalized on them.
It was a brilliant match and absolutely great to see Captain Fantastic net a hat-trick in a Merseyside derby, a feat that has not been accomplished since Ian Rush in 1982. On behalf of all of us at PaisleyGates.com, I would like to wish David Moyes a happy 10-year anniversary at Everton and hope that your next 10 are just as successful as the first.
-CSD
Don't forget to follow us on Twitter and Facebook. And for all that is holy, make a submission to our Contest.