Liverpool Look to Run Hoops Around Struggling Rangers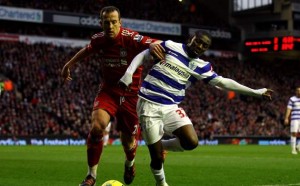 There's no rest for the wicked as Kenny Dalgish and the boys head to London tomorrow for a date with Queen's Park Rangers at Loftus Road. It's been a hectic, if not successful, week for the Reds which saw them roll over local rivals Everton by three goals to nil and only 72 hours later book a place in the FA Cup semi-finals after a Stewart Downing winner outclassed Stoke City. An upswing in form is always welcome after a barren spell left us all shaking our heads in dismay, still, this side does it's absolute best to keep things compelling. Just once it would be nice to know that we're assured 3 points, but nothing, especially in football, it ever that cut and dry.
A squeaky clean 1-0 victory in December saw us wrap up all the points on offer in a rare win in front of the Anfield faithful after Luis Suarez scored the only goal of what would be his last appearance in a Liverpool shirt before his 8 match ban kicked into effect. With the usual bulk of possesion coupled with that futility in front of the net we've all grown accustomed to, it's safe to say that proceedings could have been far more exciting had we converted the chances presented to us; still, I'd take the same result tomorrow if you offered me it right now.
The league hasn't been at all kind to us. We've won only 2 EPL matches since the calendar rolled over, and that lack of straightforward ruthlessness has all but snuffed out our hopes of qualifying for next seasons Champions League. The math is there for anyone who wants to do it; I won't spend my time boring you with the depressing details. A semi-final date in the Carling Cup, which was confirmed today would be played on April 14th so as to not co-incide with the anniversary of the Hillsborough Stadium disaster, gives the players as well as the fans something to look forward to, but you have to wonder what's left to drive them on in the league.
With Europa League qualification already secured after taking home the Carling Cup, what's pushing us to improve upon an already dismal league tally? A lack of direction or defining, unified goal can be a serious detrement to any group and football players are no different. Coming up against a side struggling for form and winless in 6 could be a bust far more than a boom, since they lack the proper motivation to leave everything on the pitch as they struggle to keep their heads above the coming tide. With a relegation knock-down drag-out battle looming just over the horizon, Mark Hughes has a proper rallying cry for his players.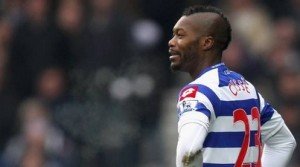 QPR face a difficult run in as the season begins to wind down and the visit of Liverpool will be weighing heavy on their collective minds. They've won only one of the last eleven league meetings with the boys from the Mersey and only one of their last 16 EPL matches. It's always hard for promoted teams to stay in the top flight, but no one thought we'd be seeing their fellow newcomers flying so high. Rangers have failed to match the lofty heights reached by both Swansea and Norwich despite spending far more than both combined. Former Liverpool striker Djibril Cissé will be in the running to face his former club with the Lord of Frodsham taking heart that another former teammate, Peter Crouch, was able to put one past Pepe Reina on Sunday. Still, Rangers will have their work cut out for them.
While we've been anything but consistent, QPR have been consistently terrible and Kenny Dalglish will look to capatalise on the renewed sense of optimism around the camp to sneak out of London with the whole tamale. We've got to keep this run going; there's not much left to play for in the League, but everyone wants a place in the squad when it's time to go to Wembley. Doing the business at places like Loftus Road on a Wednesday night is exactly how you prove you have the gumption to deserve to have your name called when the big days come around.
-steven.
Don't forget to take a second to enter our first contest and have a crack at winning yourself a brand new Liverpool Home shirt courtesy of SoccerPro.com