What Did Your Parents Say?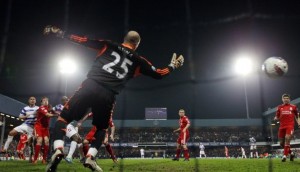 I'm not mad, I'm disappointed. That's it. Like the time you were so drunk you fell down the stairs, rolling through your own vomit before hitting the bottom. Or, when your Mom caught a girl sneaking out of the house at 6am and she wasn't even good looking. How about when you had to show them your report card with a final grade of 12% in your math class? Just disappointed? You should have been furious.
Anyone who still harbored the misguided notion that we could somehow, despite the futility of our attempts, sneak into a Champions League spot by the time May rolled around can shut your gob right now. A wonder goal from Sebastián Coates, a simple second from Dirk Kuyt, more chances than mathematically possible to calculate and no less than 11 corner kicks in 25 minutes and still we can't string together 2 back to back wins in the league. 3 unanswered goals, one of them from former Liverpool striker Djibril Cisse, and just like that we throw another "easy" one away.
If you don't laugh, you'll cry. Far past the point of embarrassment, bordering on psychosis. No chance to save your pride today.
I still believe. In the club. In Kenny. In the players and everything I did before having my testicles kicked into my throat, but what the hell is going on? Time for bed. Now.
–steven.