New Lyrics Follow the Same Old Meter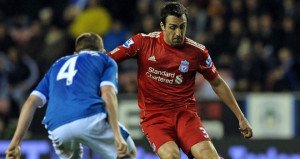 Wigan manager Roberto Martinez believes the Latics will claw their way out of their relegation battle and avoid dropping out of the Premier League. Traditionally, having a trip to Liverpool looming would do nothing to boost your hopes of staying alive; things have changed. The Reds surrendered a two goal lead on Wednesday night at Loftus Road and shipped three unanswered goals to a QPR team that are also teetering precariously on the Championship abyss. Liverpool manager Kenny Dalglish could offer no explanation for the loss as many Kopites were left feeling bushwhacked by the surprise result and the consistently inconsistent performances the Merseyside outfit continue to turn out. As the side sits shell-shocked, it's either the best time ever to visit Anfield or the worst possible. All depends which team shows up.
Despite the trauma of leaving in London without what should have been an assured three points, the performance the Reds turned out wasn't all that bad. For more than 70 minutes, we had a stranglehold on proceedings and looked ready to walk on before the combination of sloppy defending and whole brain shutdown gift wrapped the points for Rangers. There's a lesson to learn here, but we've been ignoring the Universe and its peculiar teachings for an entire season. As much as I'd like to think the visit of the Latics will be different, I won't let myself expect anything from this team for awhile.
Even though Wigan has quite possibly the worst defensive record in the league, goals for the home side aren't a sure thing. A difference of 20 points separate the two sides as Liverpool continue to occupy the 7th spot and the Latics sit one place from the bottom, but there's one thing we certainly have in common: a failure to convert chances. Kenny Dalglish has witnessed an puzzling lack of sharpness plague his side all season long. Roberto Martinez has suffered a similar outcome with players misfiring all over the pitch, and oddly enough, hitting the woodwork.
No less than three Wigan players hit the woodwork in their previous match with West Bromwich Albion as Roy Hodgson escaped with far more than his side deserved. With 21 shots on net — and only one goal to show for it — it truly could have been the Reds out there. They lay dead last in chances converted in the Premier League, and their relegation woes are a true reflection of that. In order to win, you have to score. The return of Hugo Rodallega could begin to turn the tide for the visitors, and with our defensive woes making themselves visible, the pacey Colombian could be a key factor in piling on the misery.
Had Liverpool put away even a fraction more of their chances, the three goals QPR scored in the final quarter wouldn't of made a lick of difference. Steven Gerrard, Stewart Downing and Luis Suarez were all guilty of missing golden, right as rain opportunities and in my mind, they're just as culpable for the loss as the snoozing defenders who allowed Rangers back into the match. One has to wonder how the match would have panned out had the Uruguayan buried his one-on-one with Paddy Kenny in the opening exchanges; still, none of that makes a difference. We're here, and it's now.
With little left to play for, in the league anyways, the visit of Wigan is nothing but a one off; just like the rest of our league matches. Another crack at restoring some pride and bumping up our point tally closer to a level befitting Liverpool Football Club. The real action will be back when we travel to Wembley on April 14th for our FA Cup Semi-Final, but for now, we've got shooting practice with Wigan. Let's make it count, shall we?
-steven.
OMG! The contest is almost over and you haven't entered? Do you not like freee stuff?