Lebron's Liverpool Sneaker is a Complete Joke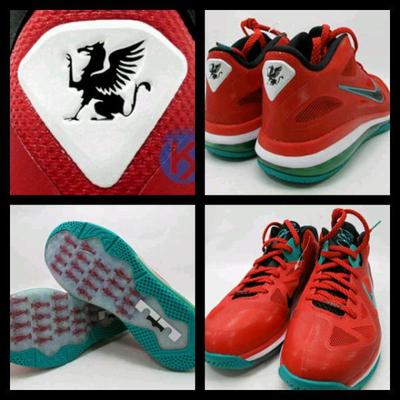 At first, I did not take much notice of Lebron James' new sneaker. It is called Lebron 9 Low 'Liverpool Edition'. The initial pics I saw were of a shoe that was primarily red with white and teal accents. I thought, "OK, I suppose they're using the coloring of the badge." After reading a tweet from Grubb to NESN, I did more investigating and was appalled at what I found.
The shoe boasts small trophies on the underside, to symbolize 18 league titles. Americans do not pay much attention to soles and look at it as just another part of the shoe. In some cultures, however, the bottom of the shoe is a very disrespectful thing to even show to another person. I'm American and even I think it's not too classy to be walking on top of the club's title history. I'm not quite sure why they stopped at the league titles when there are 5 European cups, 7 FA cups, 8 League cups, and 3 UEFA cups that we are also proud of. 
The real kicker is the emblem on the back that I can only describe as 'that thing'. According to what I have read, this is the Liver Bird, the logo of Liverpool Football Club. As someone who has followed the club for a number of years and also has the ability to do a Google image search, I can assure you this is most certainly not the Liver Bird. The Liver Bird does not look like the aborted offspring of a chicken and a cat. If you are having trouble remembering what it is supposed to look like, just scroll up to the top of this page and view our logo. That is the same bird that adorns the real Paisley Gates at Anfield. It is not like the bird, it is the bird and does not in the least bit resemble what Nike have concocted.
Perhaps this shoe is Nike's way of getting back at the club for a lost sponsorship bid at some point in history. Lebron and his people, however, really should have done their homework, especially as he is being touted as an "avid fan of Liverpool FC" by NESN. His signature across the tongue tells me he's okay with this, but I am really not. It's unfortunate that a number of individuals who do not know anything about Liverpool will be exposed to 'that thing' because Liverpool or not, that is one ugly shoe.
-CSD