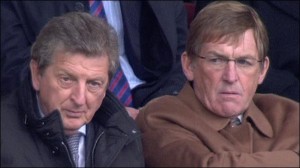 This is going to be a weird one. You'd be hard pressed to find someone who would argue that Roy Hodgson was the man to lead Liverpool forward. It's been 15 months since Dalglish took over after the journeyman manager was dismissed from the Anfield hotseat and we watched the King lead his men out of the bottom half of the table, pulling in an impressive 33 points in 16 matches. That was then and this is now. The magic touch Dalglish exhibited in that half-season at the helm has been stifled after a summer of hopeful recruitment, and Liverpool are once again underperforming, with a 7th place finish still not assured. It's a known fact that Roy Hodgson won't be returning to Anfield as anything resembling a hero, but with the numbers he posted looking suspiciously like those his successor is putting up, did he really do that bad of a job?
While criticism of Dalglish has been anything but muted, the vitrol aimed at Roy was becoming deafening during his short reign. A Carling Cup win and a FA Cup final appearance have turned down the pressure for the present time, still the King remains only one more loss away from the dial being cranked once again. Patchy league form has been the main culprit and anything but a win tomorrow will intensify the spotlight on a never quite there Liverpool side. In pure mathematical terms, very little separates the two managers in terms of points earned for matches played.
West Brom have stayed the course with Premiership survival, the only real expectation placed on Hodgson at the beginning of the season, and based on that alone you'd have to wonder if they have what it takes to take full points at Anfield tomorrow; but he's beaten his former charges before and it wouldn't take an overly creative imagination to picture that happening again. Even though it's been 45 years since the Baggies have taken full points at Anfield, anything and everything will happen this season. With our once rock-solid defence shipping silly goals, Peter Odemwingie will be relishing the chance to build on an impressive season in front of net. That is, unless Pepe Reina has something to say about it.
The Spanish 'keeper will be returning from his 3 match ban for violent conduct and having him back between the sticks will be a welcome sight after having only 3rd choice stopper Brad Jones available for the FA Cup semi-final win against Everton last weekend. That's not to say that Jones did a bad job, far from it in fact; still, with the organization of the defence suffering, having an experienced, world-class player like Reina at the back helping sort out of the play can be the difference between 3 or none. Then again, since we're at Anfield on Sunday, it'll probably only be 1.
The difference between 3 points and 1, especially when playing at home, has been the true bane of our existence. Matches we should have won were drawn. Matches we easily could have drawn were lost. Strange days and hoodoo curses have plagued our side with the mediocre aim of a one-eyed blind man. A rare converted penalty from Charlie Adam and a just as rare Andy Carroll strike saw the Reds run out 2-0 victors at the Hawthornes earlier in the season, but the cautious optimism that began to well from the minor victories that cropped up around this time were stamped out with prejudice as this topsy-turvy season began to grate on even the most patient supporter. The Reds have built a bit of steam with wins over Blackburn and Everton in the FA Cup semi-final last weekend, but we've seen momentum stifled by even the smallest bump in the road. Roy could be that bump.
The old man has a habit of choking the life out of matches and that will be his aim tomorrow. If the West Brom can sneak a goal, the proverbial bus will be parked and our front line will without doubt make Ben Foster look like a best 'keeper in the Premiership. A win would be nice and would help to differentiate Dalglish from Hodgson on purely mathematical terms; still, the visit of the Baggies will be be only a minor annoyance before the big show on May 5th.
–steven.
Earlier technical difficulties made this post one big long paragraph. I found it funny to be honest. If you did too, you can like us on Facebook. Or follow us on Twitter. If you didn't find it funny, why the hell not?