Rehashing the Obvious on the way to the Farm House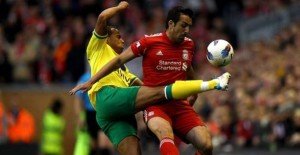 Sometimes, I like reading through my old match reviews. The previews usually don't matter; it's the outcome that people remember, not the build up. The funny thing is that the match review for Norwich sounds almost exactly the same as the one last weekend when we lit up Roy Hodgson's world by inexplicably losing 1-0 to West Bromwich. It's all possession and chances and crossbars and 'keepers making superhuman saves to deny shots that should have ripped the back the net with their mix of power and cosmic certainty. Outside of the cups, it's all been a bit monotone to be honest. A trip to Carrow Road this weekend brings Kenny and the boys to farm country and here's to hoping I get to paint a more colourful picture.
You may point to another moment, but thinking back on it, I think the 1-1 draw with Norwich at the end of October was when the alarm bells should have finally been too loud to ignore. A first half goal from Craig Bellamy should have signalled the opening of the flood gates, but wasteful finishing resulted in Grant Holt smashing a header past Pepe Reina to pull the Canaries back on terms. Rehashing that story was getting old back then and I'm about as interested in writing it again as you are to read it.
That was October and this is April; still, we're not all that worse or better off then we were before. We were lacking the chops to put up a true charge for the Champions League spots then and as we languish in 8th place, there's no hope for us now. A trip to Farm country is far from glamorous, but if you're in the hunt for something then it can be the difference between being stuck with the peons in the Europa League and the glitterati in the Champions League. You don't need me to tell you where we fit into this equation.
True story: Roger from Rehaser / Less than Jake cut in front of me in the line to buy pizza at Warped Tour one year.
It's been a weird season all around the league; you don't have to be a professional football pundit to say that, do you? Two of the three promoted sides, oddly enough those sporting birds as their mascots, are looking like they're going to be free of the relegation scrap and the final Champions League spot is still being hotly contended; just not by us. We have little left to play for, save the FA Cup final in London one week from Saturday, and to be honest, it's about time to leave it at that.
Playing for pride is important. Losing to Paul Lambert's boys should never should be an option. Expecting anything less than a win against the Canaries is defeatism at it's finest. Unfortunately, after dropping the whole enchilada to ol' Roy on our own patch of grass last weekend has moved us from the lofty heights of eternal optimist into the lowly realm of realism. Is the season over yet?
Thankfully, it's not. As much as it hurts to see us lose, or draw, or underperform — or whatever we're doing right now, it's less painful than the off-season. May is coming up soon and hopefully it'll bring some focus and composure to sort out whatever garbage it is we're going through.
-steven.
Let me "rehash" another common theme: like us on Facebook or follow us on Twitter.