When That Result Was Unexpected, You're Aiming Too High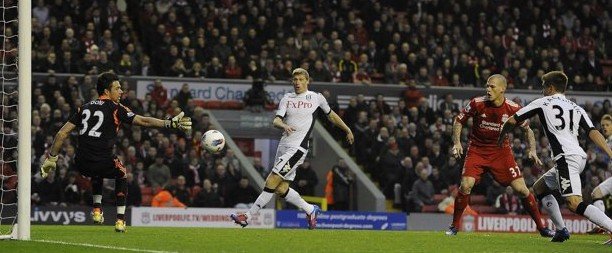 My match preview was border line vulgar; an actual match reaction couldn't be anything but. A 1-0 reversal to the hands of Fulham sees the Cottagers record what will truly be remembered as a famous victory. Think that reeks of sarcasm? Well, it doesn't. That's the first time that Fulham have ever taken full points at Anfield. For real. With the FA Cup final coming up on Saturday, you would expect a side with 9 changes from the team that trounced Norwich to battle for a place in the match day squad. Not even a starting place. The squad; the bench.
Instead, we got that.
Martin Skrtel turns in a John Arne Risse ping-pong cross early on and it's all downhill from there. That is, if you could get any lower. Chances for Andy Carroll, Maxi and Jonjo Shelvey remained unsurprisingly unconverted and although the Reds grew in confidence as time ticked away, matches aren't 4 hours long. Even that amount of Fergie time wouldn't guarantee a equalizer.
Still, it doesn't matter.
As much as this was more of a one off match than a important Premier League fixture, Saturday will be the one off match of the season. The Reds have withered for the small ones and fit right in when the spotlight lit the scene up. This result doesn't matter. Form doesn't matter. Today doesn't matter; we can win Saturday.
If you don't believe that, don't bother believing anything.
-steven.