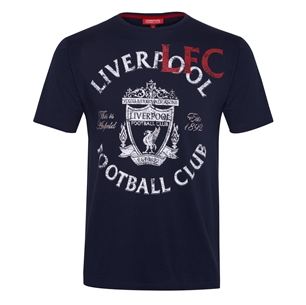 I have to preempt this post by saying we are making absolutely no money from this retailer. That's right, I'm advertising someone else's crap for free. Why? Because I didn't do well in business school.
Earlier today, while I was wasting time in front of the computer, waiting for the ludicrous display at Anfield to transpire, I stumbled across a post on Reddit. If you are not familiar with Reddit, go click around because I am not going to explain it. Long story short, some folks who run an online LFC store in California were spreading the word that they exist. I was absolutely stunned when I saw the quality of merchandise they stock and the amount to choose from. And guess what? It's official LFC merchandise direct from the UK.
If you're a supporter of Liverpool in North America then you have probably either visited sites like Soccer.com or ESPN's store which have a disappointing selection when compared to the official club store. I always hoped to one day have a decent selection of tshirts, hats, and random other little things to show my support for Liverpool without having to pay crazy shipping rates. Well, my wish has finally been fulfilled. AnfieldShop.com has more stuff than you could ever want and then some. I keep eyeing the LFC golf bag since I enjoy chasing the little white ball so much.
If you're in the US or Canada, this place is worth your time. Right now, you can even use the promo code 'EndofSeason' at checkout to save 10%. Good stuff for Liverpool fans, by Liverpool fans. You can follow The Anfield Shop on Facebook and Twitter.
-CSD
Don't forget to follow us on Facebook and Twitter too. In fact if you have to choose between us and AnfieldShop.com, pick us.